Wright State University students can learn creative problem-solving skills and risk taking with the ability to see new opportunities through a new entrepreneurship minor offered by the Raj Soin College of Business.
Students do not have to be interested in owning their own business to get an entrepreneurship minor. Many companies are looking for employees with entrepreneurial attitudes and characteristics who contribute to positive change. Department of Marketing graduates have gone on to work at some of the biggest companies in the region, such as ACCO Brands, Reynolds and Reynolds, Wright- Patterson Air Force Base, Dayton Business Journal and Cox Media.
The minor is an excellent way to prepare for an entrepreneurial career. Students will receive a multidisciplinary education in all aspects of entrepreneurship, such as marketing, strategic business planning, management and finance, said Kendall Goodrich, chair of the Department of Marketing, which offers the minor.
Each course required for the entrepreneurship minor provides real-world experience in new venture development. Students who take the entrepreneurship course develop a business plan for their own new company. The business plans are reviewed by not only the professor but also by other business executives.
Other courses enable students to develop commercialization plans for new innovations from the Air Force Research Laboratory, The Entrepreneurs Center, Wright State Research Institute or the Small Business Development Center.
The entrepreneurship minor is available to all Wright State students, not just business majors. Through the minor, students will gain a solid liberal arts education foundation, supplemented by an applied education geared toward success in small business planning and growth. The multidisciplinary minor's courses focus on starting, financing, commercializing and managing a new business.
Students learn to evaluate and plan new business opportunities, research and write comprehensive business plans and learn additional skills in market analysis, problem solving and return on investment principles, team building and planning.
Matthew Cline, a marketing major who is working toward an entrepreneurship minor, said Wright State is a good place to grow his business, Cline's Closet, an online company that sells new or used clothes.
"There is so much opportunity and great mentors here at Wright State University," Cline said. "At the end of the day and in my own way, I am following the footsteps of success left by Wilbur and Orville Wright."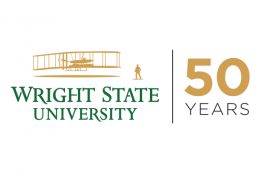 Wright State became an independent institution in 1967 and spent the next 50 years growing into an innovative leader in affordable and accessible education. In 2017, it celebrates its 50th anniversary and sets the course for the next half century.