Wright State graduate Jeremy Feador drove carefully along frozen Iowa roads that day, a historic journey in which his rented U-Haul's trailer carried an irreplaceable piece of baseball's past.
"Baseball, perhaps more than any other sport, is a connection to history," said Feador, coordinator for communications and team historian for the Cleveland Indians. "It's a connection to the history of America, but, in many cases, also a connection to your city and maybe even your family. I have had some neat experiences. My trip to Iowa is one I'll always remember."
Rewind to 1948, nearly 40 years before Feador was born.
In June of that year, a dying Babe Ruth came to Yankee Stadium for one final salute from baseball fans. Two months later, throat cancer would end the life of one of the game's greatest players. As Ruth waited for the ceremony to begin, Indians first baseman Eddie Robinson noticed that Ruth was a bit unsteady on his feet. Robinson grabbed the first bat he could find — pitcher Bob Feller's — and handed it to Ruth.
The image of Ruth, dressed in Yankee pinstripes and leaning on Feller's bat, won a Pulitzer Prize for photographer Nat Fein of the New York Herald Tribune. Ruth later autographed the bat and handed it back to Robinson.
Feller, Cleveland's Hall of Fame pitcher, later wrote in his autobiography that Robinson kept the bat for many years afterward. Ownership changed hands several times until Feller and some of his supporters purchased the bat in 2001 for a reported $95,000 and put it into his museum in the tiny town of VanMeter, Iowa.
When Feller died in 2010, the museum fell on hard times and eventually closed. Feller's son contacted the Indians about donating some of his father's items, including the bat, to the Cleveland Indians Museum at Progressive Field.
Feador and Bob DiBiasio, senior vice president for public affairs, were among a small crew sent to Iowa to transport the memorabilia to Cleveland.
"That may be the last bat Babe Ruth ever touched," Feador said. "It's an artifact attached to a very powerful image. When you get to hold that bat in your hands, you don't take it for granted."
Feador also doesn't take for granted the unique opportunity he was given when coming to the Indians in 2014.
"I love baseball, I love history, and I love Cleveland," the 31-year-old North Olmsted, Ohio, native said.
Feador earned his undergraduate degree in history and political science at Baldwin Wallace University, and then in 2010 completed his master's degree in public history at Wright State. While pursuing that degree, he worked as a graduate assistant in the Wright State University Libraries Special Collections and Archives.
"Without the education and the experiences I got at Wright State, none of this would be possible," Feador said. "I can't speak highly enough of that program. There were so many hands-on opportunities. There's no place else where you could work with one of the biggest collections of Wright brothers' stuff in the world and connect with the Air Force Museum, so many alumni, historical societies and national parks. That part was neat."
After graduating, Feador worked as an archivist for Baldwin Wallace, the Cleveland Browns and Hale Farm and Village before being hired by the Indians. He and his wife, Lindsay, have a 2-year-old daughter, Ellie.
His primary responsibilities include maintaining the displays around the ballpark, including the Bob Feller Exhibit, filling requests for information and digitizing photographs. Feador also assists with social media and promotional information.
Another Wright State graduate joined the Indians in a different capacity this season.
Joe Smith, a veteran relief pitcher and former Raiders star, began his second tour of duty with Cleveland after being traded to the Tribe by Toronto on July 31. In his 21 games after that trade, Smith allowed less than one walk and hit per inning pitched and struck out 20 in 18.1 innings.
"Joe came here and instantly made a great showing," Feador said. "I doubt many people know I was here first."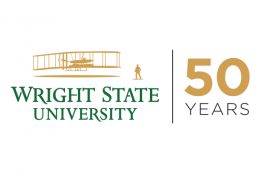 Wright State became an independent institution in 1967 and has grown into an innovative leader in the Dayton region and beyond, capturing the spirit of the university's namesakes, Wilbur and Orville Wright, who invented the world's first successful airplane from their Dayton bicycle shop. It celebrates its 50th anniversary as an independent public university in 2017.