Excerpt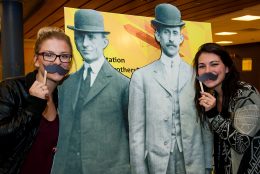 FAIRBORN, Ohio (WKEF/WRGT) – Everyone knows Ohio is the birthplace of aviation, and Wright State University took some time to honor the people who made that possible Friday.
The university got its name from the Wright Brothers, and they celebrated the 7th annual Wright Brothers Day in style.
Students got the chance to meet and snap some photos with Wright Brothers reenactors, and to see some more recent technological advances on display.
"We had a 3D printer," WSU President Marketing Club John Adams said. "We have, like, the Baxter robot that goes around, we have the virtual reality headset that can model your hand and you can actually grab some different things."
Wright Brothers Day celebrates the anniversary of Wilbur Wright's 39-minute flight on Huffman Prairie, which was 112 years ago on October 5.
Read the original post at abc22now.com