How a neighborhood store in the Middle East differs from a Costco. How music and dancing in the United States compares to that overseas. What is Black Friday shopping and holiday spending. These were among the topics of conversation shared by international and domestic students at Wright State University.
It was all part of a Nov. 21 program between students from the University Honors Program and those in the Learning English for Academic and Professional Purposes (LEAP) Program.
Approximately 35 students attended the event, which was held in Rike Hall. As the students arrived, they were divided among the tables in a way that two or more countries were represented in each group, enabling the students to hear different perspectives.
"We all have a background and we all have experience to bring to the table," said Amanda Spencer, interim director of University Academic Advising and instructor of the Honors First-Year Seminar.
Prior to the meeting, students completed a reading on holiday celebrations from the LEAP students' textbook. To encourage conversation, each table had a bag of questions the students could discuss, though students were also encouraged to ask their own questions. The open-ended questions, asking about holiday traditions and customs, dancing, music and spending, encouraged students from all cultures to speak up and add to the discussion.
Jeannette Horwitz, director of the LEAP Program, said both domestic and international students benefit from gatherings like these.
"The international students get to work with native English speakers and it's a way for them to test their English outside the comfort of the English as a second language classroom," she said. "This also helps the LEAP students, many of whom are future university students, observe the academic university culture and better prepare for their future academic classes. The American students get the chance to interact with international students. Perhaps some of them have not had the chance to travel to other countries, so this is an opportunity to ask questions, hear different perspectives and learn something new."
While the focus of the event was sharing about holidays, the goal of the event was to encourage conversation between international and domestic students.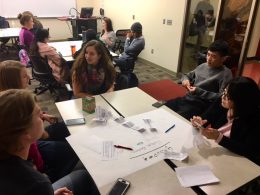 Susan Carrafiello, associate professor and director of the University Honors Program, said the collaboration with LEAP is extremely beneficial.
"Honor students benefit tremendously from their interactions with students in the LEAP Program. The Honors students realize how much they share in common with the international students as they learn about other cultures and customs," she said.
Kim Arttawejkul, an international student from Thailand who attended the event, said it was a good opportunity to share her culture.
"It was an amazing experience meeting with American students. I not only could utilize my English speaking and listening skills, but also learned more about American cultures such as Thanksgiving and Halloween," she said. "I also had a chance to share with them about some of my country's celebrations so that they will know more about Thailand."
The LEAP Program often collaborates with other programs around campus to encourage conversations between students that may not have otherwise connected.
"The international students learn what it's like to be a student at Wright State not just in the LEAP classroom," Horwitz said. "This helps them feel part of Wright State, and that's important."