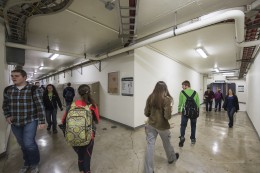 An unofficial slogan for Wright State University's tunnel system could be something like that of the United States Postal Service.
Come rain, snow, sleet or shine, students walk the tunnels to stay warm, cool and dry.
"It's great for any type of weather," said WSU sophomore Will Lofton of Dayton. "So when it's raining outside as long as you get in a building upstairs and you come down here you're good. You can make it to any class on time without getting wet, without being cold and without being too hot."
Wright State's tunnels are something that sets the school apart from most others in Ohio and even the country as a whole. Wright State is the southernmost university with an extensive pedestrian tunnel system.
Wright State's tunnels link 20 of 22 campus buildings and run nearly two miles underground, according to the university. They are believed to be some of the most extensive on any college campus in the U.S.