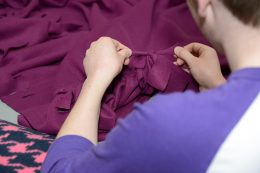 More than 200 students turned out to Wright State University's Student Union for the Project Linus blanket making marathon on April 5. Project Linus makes blankets for area children who may be sick, traumatized or in need of comfort.
"They might be going through a hard time but the blankets just show them that the community really cares about them and wants to see the best for them," Ryan Oats, a student at WSU, said.
Oats' student organization, the National Residence Hall Honorary, spent the last year fundraising for the blanket tying marathon.The last six months were spent cutting fabric for Thursday's event.