Wright State University Theatre continues its season with the popular Gershwin hit "Crazy For You" from Nov. 1 to Nov. 18 in the Festival Playhouse in the Creative Arts Center.
Performances are Nov. 1, 7, 8 and 15 at 7 p.m.; Nov. 2, 3, 9, 10, 16 and 17 at 8 p.m.; and Nov. 4, 10, 11, 17 and 18 at 2 p.m.
Tickets are $25 for adults, $23 for seniors and $15 for students. For tickets and theatre information, call the Box Office at 937-775-2500 from noon to 4 p.m. Monday to Friday, or purchase single tickets online.
"Crazy for You" is a romantic comedy musical with a book by Ken Ludwig, lyrics by Ira Gershwin and music by George Gershwin. Billed as "The New Gershwin Musical Comedy," it is based on the songwriting team's 1930 musical "Girl Crazy" with songs from several other productions incorporated. "Crazy for You" won the 1992 Tony Award, the 1993 Olivier Award and the 1994 Dora Award for Best Musical.
The production features popular show tunes such as "Slap That Bass," "Naughty Baby" and "I Got Rhythm."
Joe Deer, director of the Wright State production, called "Crazy for You" one of the most joyful musicals he has ever worked on.
"I think this is the perfect show for our moment — a tonic for the heavy news and tough talk around the elections," said Deer, chair of the Department of Theatre, Dance and Motion Pictures. "I can't think of a time when we've had a more talented and perfectly suited cast for a show. This is a show you are guaranteed to laugh out loud at. It is just a perfect show and, I think, a perfect production. I can't wait to put it before our audiences."
Deer assisted by Vern Brown; musical direction is by Scot Woolley and choreography is by Teressa Wylie McWilliams. Sets are designed by Pam Knauert-Lavarnway, lighting by Emily Hope, costumes by ElizabethBourgeois, properties by John Lavarnway, sound by Silas Sheckles and stage management by Lydia Patchett.
On the stage, the production features Joey Kennedy as Bobby Child, Will Graber as Bela Zangler, Taylor Patrick as Polly Baker, Celia Arthur as Irene Roth, Sam Maxwell as Eugene Fodor, Dana Bixler as Patricia Fodor, David Emery as Lank Hawkins, Joe Green as Everett Baker, Madeline Musico as Mother (Mrs. Lottie Child).
The ensemble features Jordan Garcia, Jonathan Crawford, Jeremy Farley, Hunter Minor, Dylan Tacker, Christopher Wells, Aaron Roitman, Zion Newton, Megan Arseneau, Laura Blaufuss, Rita Cavicchia, Robin Dunavant, Nicole Fredette, Sierra Miller, Molly Seybert, Allison Syvertsen, Michaella Waickman and Elly Wood.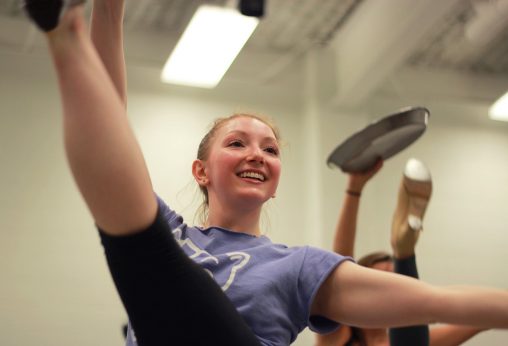 2018–2019 Wright State Theatre season
The Wright State Theatre season continues with "The Liar" in the Herbst Theatre Nov. 30–Dec. 9. The season also includes:
"Mother Courage and Her Children," Festival Playhouse, Feb. 7–17
"If/Then," Herbst Theatre, Feb. 22–March 3
"A Little Night Music," Festival Playhouse, March 21–April 7