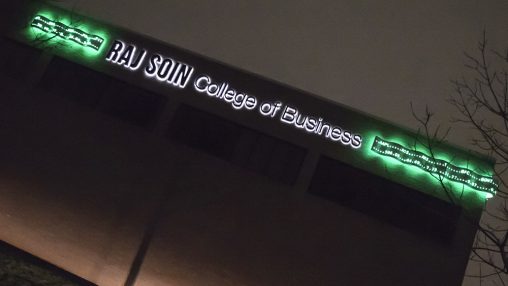 The Wright State University Raj Soin College of Business will offer 50 need-based tuition awards to students who pursue a short-term certificate in human resources, business analytics and information technology thanks to a $50,000 award from the state.
The funding from the Ohio Department of Higher Education's Short Term Certificate Financial Assistance Program is designed help students receive training that leads to in-demand jobs.
"We are delighted that the Ohio Department of Higher Education found these programs to be worthy, based on their relevance to Ohio's workforce needs, to grant us funding to assist students who wish to earn these certificates," said Thomas Traynor, interim dean of the college.
Each need-based eligible student will receive $1,000 in financial aid to be applied to their tuition. The $1,000 in financial aid will cover most of the tuition of the programs' first course. Non‐degree seeking students will be able to apply the certificate coursework toward a degree.
The four certificates offered can be earned in less than a year and lead to an industry-recognized credential for an in-demand job. The initiative is designed to help Ohio retain and expand existing businesses, attract new investments and talent and to further entrepreneurship.
The undergraduate Business Analytics Certificate provides students with the knowledge and skills necessary to conduct basic data analytics in occupations that require the evaluation of data and to support and work alongside data scientists. Currently, more than an estimated 1,100 positions are open in Ohio with the skills under the broad area of business analytics.
Students who complete the Human Resources Management (HRM) Certificate will be qualified for entry‐level and first‐level supervisory positions and prepare them to pass the entry‐level PHR or SHRM‐Certified Professional Certificate exams as well as the senior‐level SPHR or SHRM‐Senior Certified Professional Certificate exams. 
The HR Certification Exam Preparation Course prepares students to pass the entry‐level PHR or SHRM‐Certified Professional Certificates, which demonstrates that they know the domain of HR knowledge even if they do not have the educational degree credentials. Most employers listing HR positions include HR professional certification from HRCI or SHRM as a preferred qualification in their job descriptions and position postings.
The graduate Information Technology Management Certificate program enrolls IT professionals who hold a bachelor's degree and seek advanced leadership and managerial positions or professionals with a bachelor's degree in business looking to move into the field of information systems. The certificate provides the tools to proficiently perform in technology management, business analytics and information systems security. 
Individuals who are interested in learning more about these certificates or their eligibility for one of the $1,000 scholarships can contact the Raj Soin College of Business at rscob-admin@wright.edu