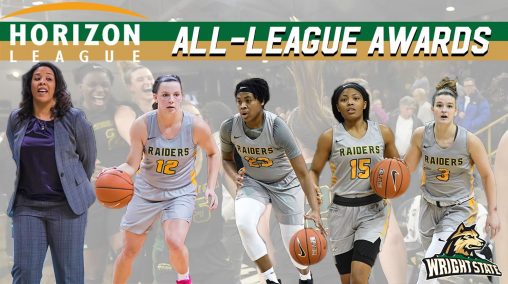 Wright State was well represented when the Horizon League announced its all-league teams and award winners for the 2018–19 basketball season.
Both Wright State coaches — Katrina Merriweather and Scott Nagy — were named Coach of the Year, while four women's basketball players and five players on the men's team were selected to all-league teams.
5 honored from women's basketball
Mackenzie Taylor was selected to the All-League First Team, Symone Simmons to the Second Team, Angel Baker to the Freshman Team and Emily Vogelpohl to the Defensive Team.
"I am proud of our seniors, Mack, Symone, Emily and the very talented freshman Angel," Merriweather said.  "We could make an argument for a couple more, but it shows the selflessness of our players who could have gone other places and put up big numbers but believed in what we could accomplish as a team. The highest honor is the COY Award. This award is for everyone. From my staff, all 15 players, support staff, administration all the way to our practice players. In my humble opinion, we have the best team and support system because it takes everyone to perform well enough for coaches to be recognized. I am appreciative of the respect our program has earned and is being shown by voters. There is more work to do."
Merriweather, in her third season at the helm, picked up her second Coach of the Year honor in three years as she guided the Raiders to their first-ever regular season championship with a record of 24-6 and a school record 16 conference wins. Her three-year record sits at 72-26. The Raiders started the season slow with a 2-3 record but caught fire, leading the league the entire season.
Taylor, a 5-6 senior from Richmond, Indiana, has averaged 11.7 points while playing in all 30 games for the Raiders.  The guard has hit 57 threes while grabbing 40 steals and collecting 50 assists with a team-best 81 percent from the line. She scored 24 points against Hofstra and has scored in double digits 19 times.  Taylor is one of three Raiders in the 1,000-Point Club.
Simmons, a 5-8 senior from Columbus, has been the quiet leader through the years and will end her career as the first Wright State basketball player, man or woman, to have 1,000 points and 1,000 rebounds. She has started 28 games this year while playing in all 30, collecting 8.0 points and 10.0 rebounds per game with 33 total steals. The guard had her season-high 15 points against UIC and 21 rebounds against Youngstown State with 17 games in double-figure rebounding.
Baker, a 5-8 freshman from Indianapolis, has seen action in all 30 games this year, averaging 9.3 points with 24 steals and 81 assists. The guard had her career-best 27 points at Youngstown State with eight rebounds against Kentucky State. She also collected 21 points in the season opener at Bakersfield and 24 points against Kent State with 20 points at Detroit Mercy in the final weekend of the season.
Vogelpohl, a 5-8 senior from Cincinnati, celebrates her second trip to the All-Defensive Team after being honored last year as well. The guard had team highs with 52 steals and 81 assists while averaging 9.0 points and 4.3 rebounds. A member of the Wright State 1,000-Point Club, she was named the All-Freshman Team her rookie season.  She has posted four steals in three different games this year while scoring in double figures 13 times and a season-high 20 points against Youngstown State.
Wright State opened the Little Caesars Horizon League Tournament March 6 with an 83–60 win over No. 8 Oakland.  The Raiders advanced to the semifinals at Little Caesars Arena in Detroit for a game March 11 with the championship played on March 12.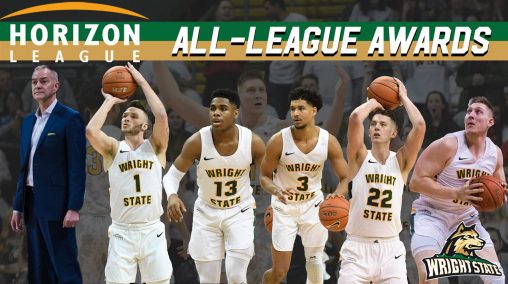 Men's basketball team earns 6 honors
Loudon Love was voted to the All-League First Team, Bill Wampler to the Second Team, Malachi Smith to the Freshman Team and Parker Ernsthausen and Mark Hughes were selected to the Defensive Team.
"All of the individual honors our players received this season are really team awards," Nagy said. "Our guys worked really hard all season and are humbled for being honored. All five of them made significant contributions to our basketball team and are very deserving."
Nagy, in his third year at Wright State, led the Raiders to a 19-12 and 13-5 record as the Raiders finished in a tie with Northern Kentucky for first place and received the No. 1 seed in the Horizon League tournament. Raider coaches have received this honor five times now as Nagy has won the distinction two years in a row. The Raiders started league play at 2-3 but finished the regular season winning seven of the last eight games.
Love, a 6-8 sophomore center from Geneva, Illinois, has led the Raiders in scoring most of the season and currently has a 15.6 points per game average, ranking seventh in the Horizon League. His 8.1 rebounds per game ranks him third overall in the conference. He posted 11 double-doubles this season and an average of 16.6 points in league-only contests. He was a second-team and the Freshman of the Year selection last year.
Wampler, a 6-6 junior from Eau Claire, Wisconsin, holds an average of 14.6 points overall and 14.4 against League foes. He collected 23 double-figure scoring games with six games of 20 or more points. He had his career-high 29 points in the Feb. 15 game against Northern Kentucky and 26 points in his Raider debut against Western Carolina. He has connected on 65 threes in 31 games played. A valuable sixth man, Wampler started the first 14 of the season before finding a niche coming off the bench. He was also one of six players named to the All-Academic Basketball Team by the Horizon League.
Smith, a 6-3 freshman from Belleville, Illinois, has averaged 5.3 points and 2.7 rebounds overall but 6.8 points and 3.7 rebounds against Horizon League foes. He collected his career-high 17 points and nine boards to help the Raiders win at Youngstown State on Jan. 17. For that performance, he was named the Freshman of the Week by League officials. Over the final seven games of the regular season, the guard has averaged 9.1 points.
Ernsthausen, a 6-11 senior from Bowling Green, started 27 games while playing in all 31, averaging more than 24 minutes a game. He has nine blocks and 24 steals with averages of 5.0 points and 3.2 rebounds for the Raiders.  Ernsthausen, who will receive his MBA this spring, was named the All-Academic Team for the second-straight year.
Hughes, a 6-4 senior from Youngstown, receives this honor for the second-straight year as he started all 31 games for Wright State this year. He had 41 steals to lead the Raiders and averaged 9.3 points and 4.0 rebounds while playing 30.5 minutes per game.
No. 1 seeded Raiders opened the Little Caesars Horizon League Tournament with a 71–56 win over IUPUI on March 5.  The Raiders, 19-12 and 13-5, advanced to the semifinals at Little Caesars Arena in Detroit on March 11.  The championship game will be played March 12 in Detroit.