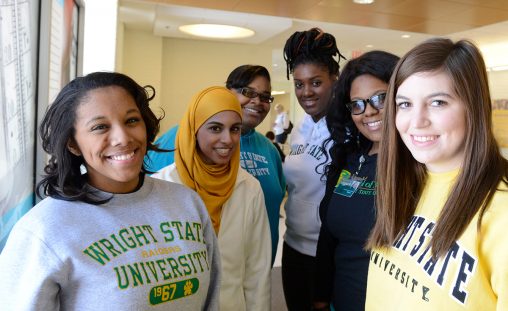 Wright State prides itself on its diversity of thought and community. However, many students who are underrepresented minorities tend to drop out of college at a higher rate.
Kevin Jones, the Student Government chief policy officer, and Adrian Williams, the Student Government vice president, decided to do something about it with the Retain the 9 Initiative.
The initiative was originally organized by Black Men on the Move, a student organization that works to strengthen the relationship between black men and Wright State University by providing academic guidance, professional and personal development, leadership skills, cultural awareness, network opportunities and beneficial college experiences.
TheRetain The 9 Initiative was created via a Student Government executive order during the fall 2018 semester. While the name of the initiative, Retain the 9, comes from the 9.9 percent of students on campus who are African American, Williams sought to expand the initiative to cover all underrepresented minorities at Wright State, including international students.
The Retain the 9 task force is made up of students, faculty, administrators and community members, including Provost Susan Edwards; Michelle Dixon, enrollment advisor; Christopher Hogan, assistant director of student conduct; Stephanie Allen, managing attorney in the Office of Student Legal Services; Bill Holmes, associate vice president for international education; Eric Corbitt; director of the Student Union and campus recreation; and Federal Circuit Court Judge Walter Rice. Williams is the chair and Jones is the vice chair of the initiative.
Jones and Williams cited four reasons that underrepresented students often drop out of college: cultural, financial, personal and academic. Combating those four initiatives is the central focus of the initiative. Wright State administrators have agreed to implement classes on cultural competency, independence and financial management for faculty. An important part of retaining minority students is recruiting them and encouraging them to come to Wright State. This means visiting more schools in the area. These measures will be implemented in the summer of 2019, assisting the students of the class of 2023 and beyond.
"I'm looking forward to seeing more representation around inside school programming, the type of student leaders we have, the type of organizations they're in," Jones said. "Ultimately for me, it's about representation, because with that representation, will come an increase in more students."