By Alan Hieber '16
Memorial Day — May 27, 2019 — is a date many in Dayton will not soon forget. Fifteen tornadoes swept through the region in a matter of hours, leaving a trail of destruction in their path.
The heart of the area is not easily broken, as the community had shown when nine members of a Klu Klux Klan group from Indiana had been met by 600 anti-Klan protesters in downtown Dayton just two days earlier.
The Wright State community was no exception in demonstrating its heart for others.
Chad McKinney '12 has been a broadcaster of Raider athletics for 13 years, including his years as a student. He has been a public address announcer for baseball and softball and once provided radio commentary for the women's basketball team's away games.
On that fateful Monday night, McKinney was at home with his two young sons while his wife, Rachel McKinney '12, was at work. It was around 10 p.m. when he started to see notifications of severe weather reaching the area.
At 11:12 p.m., an EF3 tornado touched down in the Riverside area. It was around this moment forecasters announced the 0.7-mile-wide monster with maximum wind speeds of 135–140 mph would likely be approaching the Fairfield Commons Mall in Beavercreek.
Time was precious as McKinney decided what to do. The trees were already starting to bend in the wind and the lights in the house were flickering. He rushed upstairs to put his youngest son, only eight months old, into his car seat. McKinney roused his three-year-old son from his bed and took both children into the bathroom.
"A few seconds later, the lights went out and you could hear the glass crashing and the blinds whipping in the wind. Debris was flying underneath the door," McKinney said. "I was holding onto the door knob and just hunkering down. The walls started shaking. It's true that it sounds like a freight train."
In mere minutes, the noise subsided. McKinney called for his golden retriever Nittany, who hadn't made it to the bathroom. Nittany looked confused, but was safe. McKinney went to survey the damage.
"There was drywall and insulation all over. I went upstairs and could only go so far, because it was trashed," McKinney said. "I didn't make it to our kids' room, and I saw that walls were down."
McKinney said it wasn't until they were all outside the house that he realized the roof was completely gone.
"The first responders were there pretty quick. It was kind of like a scene out of movie," McKinney said. "People were walking around and everything was just dark."
McKinney's wife was also fine. The family has been staying with Rachel's parents, who live in Columbus. The McKinneys' belongings were put into a storage unit. One notable item saved was a quilt made from work shirts worn by his father, who passed away four years ago.
On social media McKinney marked himself safe. This caught the eye of former Wright State baseball player Kyle Mossbarger '12, who was with the Raiders from 2009 to 2012.
Mossbarger set up a GoFundMe account to support the McKinneys, which quickly took off. The total after two weeks was nearly $11,000. A handful of former baseball players were among the donors.
"I haven't seen these former baseball players and student-athletes in a very long time," McKinney said. "For them to reach out to us like this has just been incredible."
"It makes me proud to be an alumnus of this wonderful university," McKinney said, his voice cracking with emotion.
Women's soccer assistant coach and Beavercreek resident Travis Sobers '03 starred for the Raiders on the men's soccer team from 1998 to 2001. He was the team's rookie of the year in 1998 and is sixth all-time at Wright State in total shots taken.
Like McKinney, Sobers was at home with his family in Beavercreek the night of the tornadoes. The same EF3 tornado that caused so much damage at the McKinney home was barreling toward him.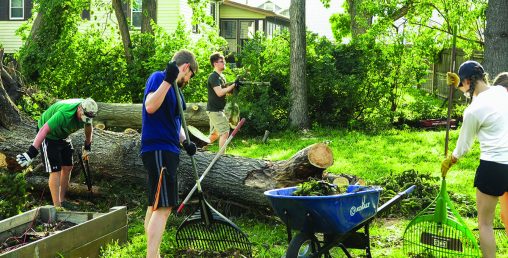 During the 20-minute time frame the tornado was on the ground, the family had to seek shelter in the basement. Sobers said their location made it more difficult to hear that notorious train sound, but it still affected his hearing.
"In movies you hear all about the crashing noise and wind, but I didn't really hear anything. You felt the pressure like your ears were clogged up, almost like you were in an airplane," Sobers said. "That kind of hampered the noise, but then after that we got outside and knew."
Countless trees were toppled during the storms, forming the bulk of the debris Sobers observed after he left the basement.
"My front two trees were laying on the house, the porch and cars," he said. "Then I had a huge pine tree in the back that's probably about 100 to 120 feet long that was uprooted. The power lines were laying across my back deck."
With a grin forming across his face, Sobers said, "It looked like something out of a war movie."
There was no electric service immediately, so the Sobers family stayed at a friend's home for several days. When they returned, a generator was used for about five days before the outage came to an end.
Shortly after the tornado passed, Sobers texted his players to check up on them. Unbeknownst to him, they had something special in store.
"On Tuesday afternoon they just showed up at the house, and I didn't know that they were coming. It was kind of cool to know that the kids cared, and I understand their lives are busy," Sobers said. "They took time out of their day to come and give a helping hand."
Sobers had just gotten a tree removal quote for more than $8,000 when the athletes arrived to help haul away the debris.
"All of the sudden, I have an infantry of kids helping me clean everything up," he said. "We got it cleared out within a couple of hours."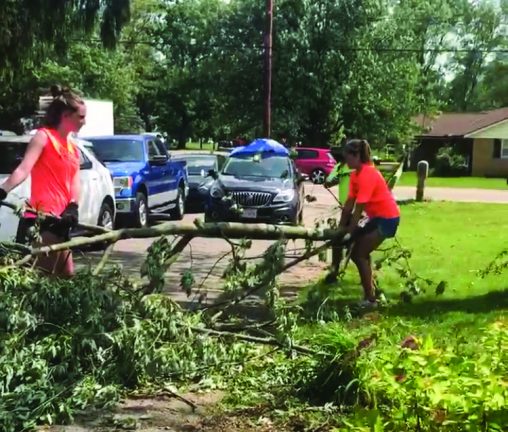 Raider soccer defender Andrea Gomez gave a hand in clearing the debris in Sobers' backyard. Her father, brothers and members of her church joined her. She also volunteered with the clean-up process at several other houses in the same community.
Wright State goaltender Maddie Jewell was another one of those players.
"Travis always takes such good care of us, so it was our turn to return the favor and help out in any way we could. Our team is a family, and whenever someone from your family is in need, you help them with no hesitation," Jewell said. "We're lucky to have him on staff and are hopeful for him and his family's ability to overcome the situation."
Chris Bethel, assistant athletic director for facilities, also came — and brought his chainsaws.
"It was cool to see the community come together in a time like that. It's pretty inspirational to know there is still good in the world. People are still happy to help one another," Sobers said.
The outpouring of support by student-athletes that has occurred throughout the Miami Valley — in some cases helping out complete strangers — caught the attention of Athletic Director Bob Grant.
"The best thing I can tell you is that I'm not surprised at all. When members of our family like Chad and Travis are directly affected, I think that puts a face to the tragedy," Grant said. "This is what our culture has bred in a real positive way.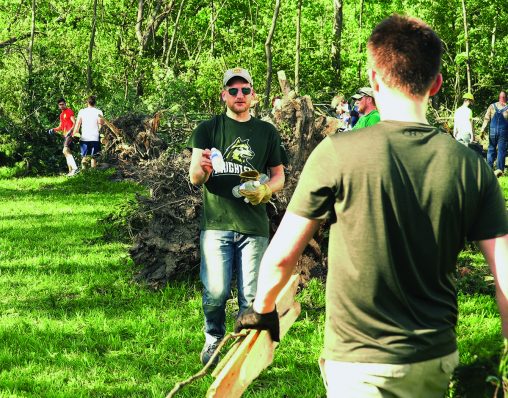 "We sort of indoctrinate student-athletes and our administrators that we're not just an athletic department. We're about the whole person, giving back, and academics. Thankfully, that allows an attitude of helpfulness in times like this."
Disaster Relief Fund
The Wright State Alumni Association formed the Wright State Disaster Relief Fund to aid students, faculty, staff and alumni who were affected by the tornadoes. As of June 15, 2019, the association had raised $22,695 from 326 donors.
This article was originally published in the fall 2019 Wright State Magazine.