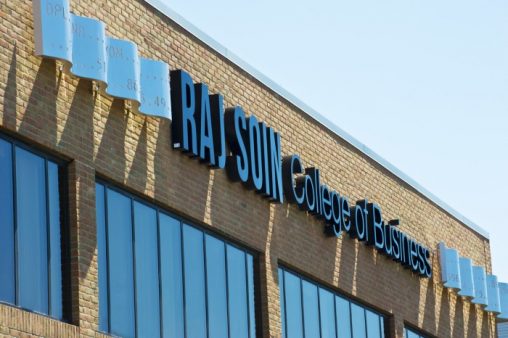 Students and business professionals interested in gaining a deeper understanding of marketing strategy and data analytics can now pursue a new master's degree from the Wright State University Raj Soin College of Business.
Enrollment is now open for the new Master of Science in Marketing Analytics and Insights, offered by the college's Department of Marketing. The new program is STEM-eligible, which allows international students to stay in the U.S. for up to 36 months.
"The new degree program is believed to be the first master's in marketing analytics program in the state," said Kendall Goodrich, professor and chair of the Department of Marketing.
The program will give students a deep background in marketing, strategy and consumer behavior while helping them understand how to analyze and interpret data and apply that knowledge.
"Students who go through the program will learn to identify and solve marketing problems with data analytics," said Bin Li, assistant professor of marketing, who teaches Big Data and Predictions, among other courses in the program.
Students will also learn how to interpret data from different sources, whether online or from a company's sales or customer databases, to better understand customers.
"Students are going to get a fundamental grounding in marketing strategy and understanding the customer and how you can use data for actionable insights to better serve customers for greater business growth," Goodrich said.
"Employers have given us very positive feedback to our approach of integrating analytics with the functional areas of business administration, and the M.S. in Marketing Analytics and Insights does just that," said Thomas Traynor, interim dean of the Raj Soin College of Business.
The program is designed to provide practical strategies and applied capabilities. Data analytics courses cover common tools and technologies used in marketing analytics, including traditional marketing, segmentation, new product forecasting and big data. The courses cover traditional and cutting-edge techniques to help prepare students "for the future of marketing," Li said.
The program also emphasizes marketing strategy and customer orientation to differentiate it from statistics or computer science programs. "Marketing analytics are a way the student can apply techniques from statistics and computer science to solve marketing problems," Li said.
Students in the program must complete eight core courses covering such topics as marketing strategy, research, consumer behavior, digital marketing, introductory and applied analytics in Excel and big data. Students also choose two electives from an offering of courses in marketing, economics and management information systems.
Students must complete a capstone research project. Each student will design their own capstone project in which they analyze data from a real company and devise recommendations that could be used in a business situation. Marketing faculty will work closely with each student to design a project that meets their career goals.
The program will appeal to business and marketing students, professionals who want to bolster their analytical knowledge, professionals working for analytical firms who want to improve their business acumen and anyone with an engineering or mathematical background interested in business.
The Department of Marketing launched the new master's program to meet a growing need for professionals with marketing and analytical backgrounds. The number of analytics jobs around the United States is expected to triple, while the number of qualified data-literate managers is expected to fall short of demand by 1.5 million.
"Studies have found that universities aren't doing enough to fill the gap," Goodrich said. "We believe marketing analytics is an area that students will want to know more about."
For more information about Wright State's M.S. in Marketing Analytics and Insights program, contact Bin Li at bin.li2@wright.edu or Kendall Goodrich at kendall.goodrich@wright.edu or visit business.wright.edu/marketing.