On the heels of its first Horizon League regular season championship in program history and a 24-win regular season, the Wright State volleyball team received an at-large selection to the 2019 NCAA championship. The Raiders will take on Purdue out of the Big Ten on Friday, Dec. 6, at 7 p.m.
This is the first-ever NCAA championship appearance for Wright State volleyball and is the first at-large bid in any sport in Wright State athletics history.
The Raiders won the Horizon League for the first time with a 13-3 conference mark. The team boasts the No. 44 RPI in the country, its highest in program history and the highest among all Horizon League schools. Overall, the Horizon finished with five teams inside RPI Top 100 and as one of six conferences with four or more programs inside the Top 55.
"It is safe to say that it has been one of the longest days for my team and I and for the staff," head coach Allie Matters said. "We thought that we had a chance. … It's one thing to talk about it, to think about it and to have a vision, but it's another thing to see your name in the bracket. We've put this program in a place it's never been before, so to be rewarded and have an at-large bid for the first time in program history – the only sport to ever receive one at Wright State – it's an honor and I'm so happy for this team."
"To be here now from where we started (when the senior class arrived on campus) is such an amazing feeling. We couldn't have done it without our teammates, coaches or the staff here," senior Taylor Gibson said. "The coaching staff's confidence and how they know that we know we're good, it relieves stress off of us."
"I never thought we would be here, but we really deserved it this year and I didn't want to stop playing with this team and these coaches," fellow senior Hannah Colvin added. "Having coaches that believe in you, are confident in you and always there for you. … they are just people that we can rely on but we also want to make them proud."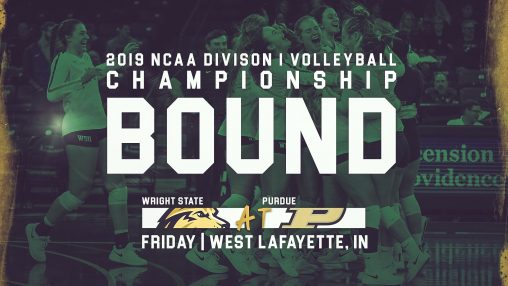 Second-year head coach Allie Matters was named the Horizon League's Coach of the Year, while sophomore Jenna Story was named the league's Defensive Player of the Year. Nyssa Baker, Celia Powers, Lainey Stephenson and Story were named to the All-Horizon League First Team. Teddie Sauer was an Honorable Mention All-League performer and Megan Alders was named to the All-Freshman Team. The seven league honorees were the most in Wright State program history.
Wright State enters the NCAA championship with a 24-5 overall record, while Purdue holds a 22-7 mark. The Raiders tallied eight wins in road matches and five wins in neutral site matches during the regular season.
The NCAA tournament consists of 64 teams and is made up of best-of-five set matches in a single-elimination tournament. The 2019 NCAA Division I women's volleyball championship will be held at PPG Paints Arena in Pittsburgh on Sunday, Dec. 21.