By Alan Hieber '16
What might seem a simple gesture to some can often make a great impact on someone's life. Team Impact, a nonprofit organization that partners with Wright State University's baseball and golf teams, recently made that level of positive contribution to a pair of Dayton-area families. Team Impact is a national organization that matches children who have serious and chronic conditions with local college athletic teams. The children sign a letter of intent as if they were a high school recruit and participate in practices, games, and team outings.
Jesse Burns, 9
Jesse Burns of Beavercreek is a 9-year-old with cerebral palsy. He signed with the baseball team in fall 2019 after having gotten to know the players and coaches.
Jesse being paired with Wright State was a natural choice.
Jesse's mother Elizabeth Burns '04, '15, an intervention specialist, holds a bachelor's degree and master's degree in education from Wright State. His father Jeremy Burns '02, '04, also an alumnus, earned degrees in electrical engineering.
Prior to his signing ceremony, Jesse was given a special lanyard, similar to a media pass, with his name printed on it.
Then it was time for his big day.
Jesse rolled onto the Nischwitz Stadium turf in his power wheelchair to a table set up for him to sign his commitment document.
"They did a signing as if he were a high school athlete committing to the team. It was really sweet, and they gave him a lot of official team gear," Elizabeth said. "Then he got to lead the team in a chant at home plate, and they had a pizza party."
Elizabeth said Wright State coach Alex Sogard and Jesse have formed a special bond.
"It's nice for [Jesse] to have another adult male mentor and somebody who sees the good parts in him, because not everyone is very accepting when people are different," she said.
Sogard said Jesse has been an inspiration to everyone involved with the team.
"When we found out about Team Impact, we were really excited about the possibility of making a difference with a local kid who is a huge baseball fan," Sogard said. "From the moment we met Jesse, we knew he would be a great fit with our guys."
Baseball fans might have to reassess their level of passion after meeting Jesse. When the avid Toronto Blue Jays fan watches and listens to games, he gears up in style with a bat and helmet. His mother describes Jesse's fascination with the game as an "obsession."
"He has MLB TV, and we're still watching baseball games from the past season," Elizabeth said.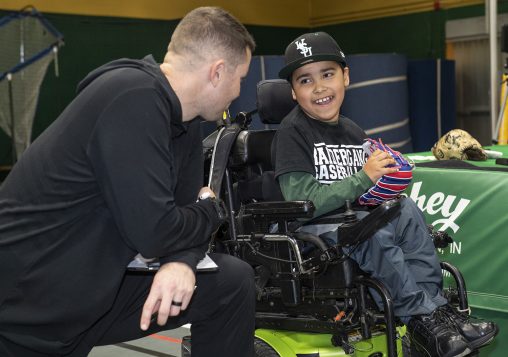 Individuals with disabilities and their advocates can feel like outcasts due to their differences from others. If any of that existed when Jesse began interacting with the players, it quickly vanished, Elizabeth said.
"I've really enjoyed watching some of the players go from being a little nervous about being around Jesse to being really comfortable in talking to him," she said. "It's also been great to see Jesse's confidence and see him know that he's an important part of the team. He isn't scared to just go and hang out with the guys, and he knows that he fits in.
"It's nice that this is a group of people who just embrace who Jesse is with his love for baseball and not discarding him because he's in a wheelchair or can't talk."
Despite the vocal limitations that exist for Jesse, a simple facial expression can speak volumes about his feelings, as junior Raider first baseman Zane Harris has observed.
"Seeing [Jesse's] smile when he is around baseball is priceless," Harris said. "He's so happy to be a part of the team and be with the guys. We all love Jesse and can't wait to have him by our side this season."
Elizabeth has also witnessed a few other indicators of friendship.
"Jesse asks to go to see his friends at the baseball field via sign language or his communication device," she said. "The fact he calls them his friends is a big deal. He cries when we say no or have to leave."
Junior pitcher Daniel Kreuzer said Jesse's demeanor is what people remember after meeting him.
"The energy Jesse carries with him wherever he goes is unmatched. For someone living with his condition, there is adversity," Kreuzer said. "Jesse has done what every player on our team strives to do not only in baseball, but also in life. He is very much a Raider with the way he lives his life. It is an honor to be his teammate."
James "J.J." Hill, 11
Getting connected with his Raider family also seemed like destiny for James "J.J." Hill, an 11-year-old with Type 1 diabetes. Austin Sipe '18, a member of the golf team from 2013 to 2017, has the same physical challenges and has discussed them during speaking appearances at local tournaments.
This understanding of Sipe's Type 1 diabetes led to Wright State's golfers sharing common ground with James.
"Coach [Brian] Arlinghaus knows more about the disease because he's dealt with it through Austin, and some of the guys that are familiar with Austin also know," James' mother Carly said. "It makes James feel a lot more comfortable that when he has to check his blood sugar and get insulin, they understand."
The spotlight was on James last January in front of thousands attending a Wright State men's basketball home game. His face glowed as he put pen to paper while seated with his mother and Arlinghaus at a table set up at midcourt with his golf teammates standing in uniform behind him.
"Oh, he was so excited. There were TV cameras and cheering fans," Carly said. "He had all of the team there behind him to support him. He had talked about it for months leading up to it."
The sometimes-shy young man has had a boost of confidence in conversing with his newfound friends and has been built up much like the Legos he plays with. He also has an affinity for using "The Avengers" as an ice breaker, his mother noted.
"It's been a lot of fun getting to know J.J. and see him come out of his shell around the team," Arlinghaus said. "When we first met him, he was a little shy and apprehensive, but as he got to know the guys, he really opened up. Now he's a complete chatterbox when we're together.
"Once he gets started on Legos or 'The Avengers'—look out."
Senior golfer Austin Schoonmaker said getting to know James has taken some time.
"He always has the biggest smile on his face when he is with us, which is awesome to see, especially when he is watching us in our events," he said. "J.J. has certainly meshed well with everyone on the team. I am truly thankful for Team Impact to have set us up with such a wonderful person and teammate."
James is also working on his own golf skills—for now, using a putter.
"He's learning to like golf. We let him putt, but we don't let him do much else because we don't trust him with the golf club yet," Carly said with a chuckle.
The 2019 spring golf season was one of coronation for the Raiders as the team captured its first Horizon League tournament championship and NCAA regional tournament appearance since 2004. This meant the obligatory awarding of rings for the conference title.
It also meant that memento being given to James.
"We were going to surprise him, but Coach Arlinghaus measured his finger and he said, 'Mom, I'm getting a ring of some sort,'" Carly said. "He knew."
Above all, Team Impact has provided a supportive peer group for James that helps him overcome his shyness. Some golf team members even attended a recent birthday party for him, an emotional moment for his mother.
"They gave my son a group of friends that he didn't have. He has people to connect with," she said. "When he's having a bad day, I can message any one of them, and they'll call or FaceTime, and as soon as he sees their faces, he lights up. They have busy schedules, but they still always find time for J.J.
"Just watching him get to have those friends makes me want to cry."
For more information on Team Impact, visit goteamimpact.org. For more information on the baseball team, golf team, and Wright State athletics, visit wsuraiders.com.
This article was originally published in the spring 2020 issue of the Wright State Magazine. Find more stories at wright.edu/alumnimag.