Excerpt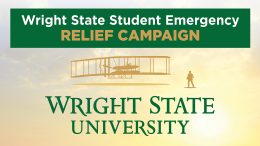 An Emergency Relief Campaign set up to help Wright State students has topped $31,000 and students can now apply for grants.
The Wright State Student Emergency Relief Campaign will provide one-time support to Wright State students currently enrolled at the Dayton or Lake campuses with demonstrated financial need.
Eligible students may apply online at wright.edu/StudentRelief for financial assistance with food, toiletries, medications, and other supplies. Students who have incurred travel expenses to return to their homes outside of the area may also apply.
"We are so grateful for the support provided by our Wright State family during this unprecedented time. Our students' lives have been turned upside down by this pandemic," said Bill Bigham, interim vice president for advancement. "Our Division of Student Affairs will be reviewing applications as quickly as they can so we can get this much-needed funding to our students as soon as possible."
Students who have questions about the application process should contact Destinee Biesemeyer, associate director for student advocacy and wellness, at studentadvocacyandwellness@wright.edu.
Donations to the Wright State Student Emergency Relief Campaign will be accepted through April 17. Donate to the Student Emergency Relief Campaign.
View the original story at dayton247now.com