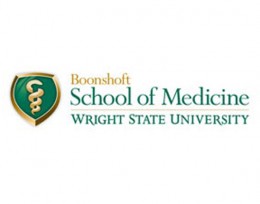 DAYTON, Ohio—The Wright State University Boonshoft School of Medicine will welcome 103 new students during a special ceremony on Sunday, July 31, to formally mark the start of their medical education. The annual Convocation and White Coat Ceremony, which is open to the public, will be held in the Schuster Performing Arts Center's Mead Theater in downtown Dayton at 2 p.m.
During the ceremony, students will take their first oath of professional medical ethics, concluding with the words, "I commit myself to a lifelong journey of learning how to cure, relieve, and comfort with humility and compassion." Each student will also receive a white coat—a traditional symbol of the medical profession—personalized with his or her name and the medical school patch.
"This ceremony represents an important milestone in students' journey to enter the profession of medicine," said Gary L. LeRoy, M.D., associate dean of student affairs and admissions. "It is also the first time they will gather as a class and meet the people who will share, over the next four or more years, what may be some of the most memorable and intense experiences of their lives."
The students, who were carefully selected from a group of more than 3,000 applicants, will not have long to savor this poignant celebration. Orientation for the class of 2015 will start on Monday, and students will begin formal classes the following week.
Mary C. McCarthy, M.D., FACS, will address the students and their friends, family members and other supporters in attendance. She serves as the Elizabeth Berry Gray Chair and professor at the Wright State University Boonshoft School of Medicine, Department of Surgery. McCarthy also served as the director of Trauma Services and associate director of CareFlight Air Ambulance at Miami Valley Hospital from 1991-2010, when she was promoted to chair of the medical school's Department of Surgery.  She was recognized as one of America's Top Surgeons in 2005, and as a Dayton Healthcare Hero in 2006.