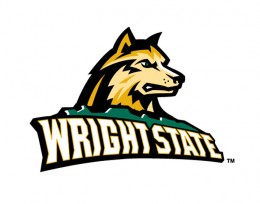 Staying active during the winter months can be a challenge. Icy sidewalks, lung-freezing temperatures and howling arctic winds can make a soft couch and roaring fire more appealing than braving the elements to walk or run.
So in an effort to help faculty and staff members stay fit and heart-healthy over the winter by walking, the university will provide a warm, safe and dry exercise environment by opening the doors of the Wright State Nutter Center twice a week as part of the Healthy Steps program.
The free winter-quarter program, sponsored by Wright State and Miami Valley Hospital, will also encourage friendly competition among teams from campus offices and departments.
Participants will receive a pedometer from Miami Valley Hospital at their first walk and be encouraged to wear it each time they walk. Walkers will sign in before beginning and log their steps when finished. The group and individual with the most cumulative steps during winter quarter will win the title and receive a special prize. Walking will be on the arena concourse, in which one lap is approximately one-fourth mile.
The program offers advantages to walking the campus tunnels for exercise. Walkers at the Nutter Center won't have to worry about fighting pedestrian traffic, will have a degree of privacy and will find it easier to track and measure their distance. Also, parking is easy and the walking times are designed to be convenient.
In addition, a raffle will be held each week for those who participate. Prizes such as free chair massages, free personal training sessions, T-shirts and more will be given away.
Miami Valley Hospital employees will be on site on several occasions to provide blood pressure checks and other free health screenings.
The Healthy Steps program will run through winter quarter. The Nutter Center will be open for walkers on Tuesdays from 5 to 7 p.m. and Thursdays from 7 to 9 a.m.
Directions: Participants can park in Lot 9, located behind the Nutter Center nearest the McLin Gym and Gate 9.  They can enter Gate 9 and take the stairs or elevator up to the 4th floor. Follow the directional signage on the concourse to find the sign-in table.
Participants are advised not to bring valuables, as there will not be an area to lock personal belongings.
Faculty and staff are welcomed to bring a guest. Guests must be at least 18 years old, sign a waiver and will not be eligible for the raffle prizes.
Dates and times will be subject to change due to Nutter Center event schedules. For an up-to-date schedule and any changes, visit http://www.nuttercenter.com or http://www.wsuraiders.com