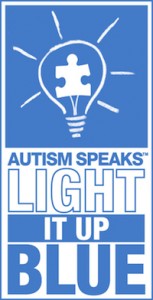 The Wright State University Nutter Center typically glows green and gold at night but in April it will be bathed in blue in support of Autism Speaks' national campaign, Light It Up Blue.
It's the second straight year students from the Alpha Xi Delta (AxiD) sorority are coordinating Wright State's participation, which will also include lighting the Student Union in blue and several fund raising and awareness events.
"All over the country and world, monuments and building are being lit up blue in April in support of Autism Speaks, and we're excited to be a part of it again," said senior Samantha Romano.
Light It Up Blue, in its third year, is a unique global initiative to help raise awareness about the growing public health concern that is autism. This year the coordinated awareness campaign will kick off on World Autism Awareness Day, April 2.
Autism is a genetic disorder involving impaired brain or central nervous system development. People who have autism often have delayed language development. They usually have trouble with social interactions and can experience what some people describe as "sensory overload": Sounds seem louder, lights brighter, or smells stronger.
One out of every 110 people are autistic, more boys are afflicted than girls, and diagnoses usually occur before a child is 3 years old.
Romano said last year's effort helped raise awareness considerably on campus because many people did not know about Autism Speaks or the Light It Up Blue campaign. As a result of the increased awareness and interest, AxiD helped create the new student organization Autism U, so that students who were not part of the sorority could also join the effort and help raise money for the cause.
Romano, who is close to getting her degree in psychology and wants to pursue a Master's that could lead her to working with autistic patients as a counselor in the future, said autism is already making a heavy impression on AxiD.
"There are a couple of sisters who have autistic siblings and their experience is an excellent way for us to get know more about what autism is and how we can contribute, whether it be in working directly with the kids or other kinds of volunteer work," said Romano.
Expect to see the Nutter Center and Student Union lit blue at midnight on Monday, April 2. Later that week, AxiD sisters will begin staking out The Hangar and Student Union to share information about autism, pass out light blue ribbons for the cure and sell glow-in-the-dark blue bracelets soon after that.
Last year AxiD raised nearly $1,000 from all of its fundraising efforts and hopes to double that figure in 2012.
AxiD will again sell baked goods at a Wright State baseball game Saturday, April 14. The sorority also plans to participate again in the Walk Now for Autism Speaks event in Columbus.