((Contributed by Tim Gaffney))
Don't touch that dial.
The Wright State University medical students who produce and host Radio Rounds aren't going to try to heal you over the air—or the Internet. They might, however, help you connect with the medical profession in more personal ways than usual.
Since 2009 when it first aired on WWSU-FM, Wright State's campus radio station, Radio Rounds has been connecting physicians and other guests from around the country with a growing audience to discuss the human side of medicine.
In various formats including downloadable podcasts, streaming webcasts and broadcasts on WYSO-FM, the public radio station in Yellow Springs, Radio Rounds has produced more than 100 episodes and logged more than 2 million Internet hits.
Crucial to the success of Radio Rounds is the support of WSU iTunes U, a service provided to the university by the Center for Teaching and Learning (CTL) that includes podcasts, lectures and pre-recorded radio shows.
You may not have noticed it when it happened, but it's clear that tens of thousands of online users did notice when Wright State made it on a crucial listing for the portal last April. WSU on iTunes U is a service provided to the university by the Center for Teaching and Learning (CTL).
It isn't just a strong local fan base. At medical conferences across the country, "invariably we run into people who have listened to the show," said Shamie Das, one of the three medical students who make the show. "We've had people listening from Egypt."
Students Avash Kalra and Lakshman Swamy created Radio Rounds and serve as co-hosts. They took DJ training at WWSU-FM.
The idea wasn't to create a medical advice program or something specifically for medical professionals, said Das, who is going into emergency medicine. "It's not Car Talk for doctors. It's more about the doctor-patient relationship."
A show begins with an idea or a question. The students research the subject, conduct most interviews over the phone and then develop talking points for the show. The weekly show is formatted in 15-minute modules.
The program's first episodes featured local doctors from the Boonshoft School of Medicine. Since then it has broadened its guest base and reached out nationally. Guests have included Pulitzer Prize winners Tracy Kidder and Margaret Edson, whose writings have included medical themes.
The group collaborates with some organizations that also produce medical content for physicians. They also get support from faculty.
"At another university," Das said, "I don't know if this would have been possible."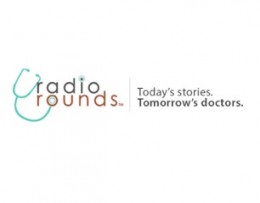 Das thinks a program produced by medical students brings a new perspective to programs dealing with medicine and could become a nationally syndicated show.
"We want our show to be the voice of medical students across the U.S.," he said.
Recognizing that they are only students for a while—Kalra has already graduated—they established Radio Rounds as a not-for-profit company with the goal of having future students continue to produce and grow it.
"It made it something that would last beyond us," Das said.