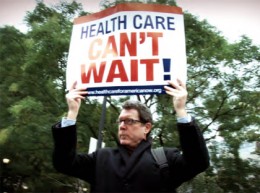 Wright State University Boonshoft School of Medicine is one of more than 50 medical schools participating in a one-day national screening event of the Sundance film "ESCAPE FIRE: the Fight to Rescue American Healthcare" on Tuesday, Sept. 17.
The event is at 7 p.m. in the Gandhi Auditorium in White Hall on the WSU campus. It is free and open to the public. Free parking is available in lots 14, 16 and 17 near White Hall after 6 p.m.
The 99-minute film is co-presented by several organizations within the medical school, including the Physician Leadership Development Program (PLDP), Boonshoft for Healthcare Improvement (BHI), Student National Medical Association (SNMA – BSOM chapter), American Medical Association (AMA-BSOM chapter), Military Medical Interest Group (MMIG) and the American Medical Student Association (AMSA-BSOM chapter).
The medical school was one of 50 medical schools that participated in an advance screening in Sept. 2012.
The film tackles the issue of rising health care costs. Within 10 years, American health care costs could reach $4.2 trillion annually, which is about 20 percent of U.S. gross domestic product. The film examines the forces maintaining the status quo, a medical industry designed for quick fixes rather than prevention and for profit-driven care rather than patient-driven care.
The film also presents attainable solutions. Filmmakers Matthew Heineman and Susan Froemke include stories of patients and physicians with those of leaders fighting to transform health care at the highest levels of medicine, industry, government and the U.S. military.
Ashleigh Welko, a fourth-year medical student, who also is in the medical school's Master of Public Health degree program, said ESCAPE FIRE is a must-see film for health care students and professionals. "This documentary is unique," she said. "The filmmakers cut through partisan politics to reveal the true issues plaguing our nation's health care system."
R.J. Sontag, a first-year medical student, contends that incoming medical students have the opportunity to tackle the problem of out-of-control health-care costs from the ground level. "Rather than perpetuate a broken system, I want to educate myself to discover and implement solutions," he said.
Tiffany Bradley, a second-year medical student, said the film conveys the importance of being a patient advocate. "ESCAPE FIRE further explained the gravity and detrimental nature of the challenges we are all facing in receiving and administering care," she said.
To learn more about the film, view the website (www.escapefiremovie.com) or the Facebook page (www.facebook.com/escapefire).