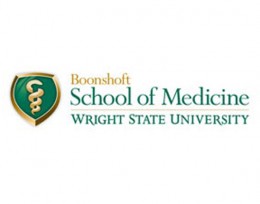 Lara Ilyas a Wright State Boonshoft School of Medicine family medicine resident, was one of two people nationwide selected to receive an STFM/NIDA Training Award in Substance Abuse and Addiction.
The Society of Teachers of Family Medicine (STFM) partnered with the National Institute on Drug Abuse (NIDA) to fund two one-year training awards of $22,000 each to support the development of expertise in substance abuse and addiction within academic family medicine. The award includes a $2,000 stipend for mentors.
Ilyas, M.D., will conduct an original, mentored pilot/data-gathering study in substance abuse and addiction. Results will be presented at the 2016 STFM annual spring conference in Minneapolis.
Ilyas is beginning her second year of residency in the Boonshoft School of Medicine Family Medicine Residency Program at Five Rivers Family Health Center on the northwest side of Dayton. She will implement and evaluate CareText in conjunction with the screening, brief intervention and referral to treatment (SBIRT) service for unhealthy alcohol and other drug use.
SBIRT is one of the most cost-effective medical preventive services but is underutilized in primary care because of lack of training of physicians. CareText is a text-message-based follow-up application that permits monitoring of patient alcohol and other drug use and treatment adherence. It can be accessed by anyone who has a cellphone.
"Substance abuse has been a pervasive presence, especially in the Dayton area," Ilyas said. "I hope to enhance our residents' abilities to handle substance abuse issues using the SBIRT service and motivational interviewing skills. Our goal is to improve outcomes by keeping patients motivated through regular CareText reminders."
Ilyas will collaborate on this project with Paul Hershberger, Ph.D., a psychologist with expertise in motivational interviewing and a professor at the Boonshoft School of Medicine; Michael Jacobson, D.O., a family physician certified in addiction medicine and a part-time faculty member in the Family Medicine Residency Program; and her project mentor, Josephine Wilson, D.D.S., Ph.D., an experienced substance abuse researcher and the director of the Substance Abuse Resources and Disability Issues Program in the Boonshoft School of Medicine.