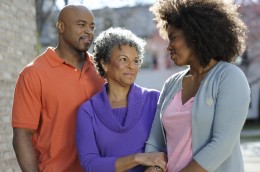 Alzheimer's disease is one of the top 10 leading causes of death in the United States, according to the Centers for Disease Control and Prevention. About 5 million people in the United States suffer from Alzheimer's disease. And African-Americans are two times more likely to develop late-onset Alzheimer's disease and less likely to have a diagnosis than whites, according to the Alzheimer's Association.
To provide professionals with information about Alzheimer's disease in Montgomery County, the Wright State Boonshoft School of Medicine Center for Healthy Communities HealthLink and the Ohio State Area Health Education Centers Region IV will present a half-day seminar, "Montgomery County Health Disparities: A Closer Look at Diverse Populations with Alzheimer's Disease."
The seminar will be on Tuesday, Sept. 9, 8:30 a.m. to 12:15 p.m., at the Madison Lakes Learning and Conference Center, 581 Olive Road in Dayton.
The seminar is for social workers, counselors and nurses. Participants will learn about a model used to address the disparities of people with Alzheimer's disease in the African American community and how to apply their new knowledge to current practice.
Presenters include Eric Van Vlymen, executive director, Alzheimer's Association, Miami Valley Chapter; Courtney Ross, advocacy and outreach coordinator, Alzheimer's Association, Miami Valley Chapter; and Jane Eckels, clinical services director, Alzheimer's Association, Miami Valley Chapter.
There is a $20 nonrefundable registration fee. Space is limited. Register online at med.wright.edu/chc/hlmvseminars.
For more information, call Cindy Bradley at (937) 775-8248 or lucinda.bradley@wright.edu.