No Raider wi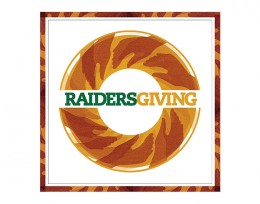 ll eat alone this Thanksgiving. On Thursday, Nov. 27, from noon to 3 p.m. in the Hangar in Allyn Hall, Wright State will host its annual Raidersgiving, a dinner event for students staying on campus over the holiday break.
From the usual feast of turkey, stuffing and mashed potatoes, to halal chicken and plenty of vegetarian dishes, this year's Raidersgiving dinner spread is set to be more bountiful than ever.
A team of 50 volunteers — some donating food with others helping coordinate and work the event — is making the event possible, said Craig This, one of the founding members of Raidersgiving.
"We want to provide dinner, a holiday meal, fellowship and some activities for these students," said This, data analyst in the Office of Institutional Research and former chair of the Unclassified Staff Advisory Council (USAC). "We're not trying to replace what they get from home, just give them a fun environment and a chance to be with others for the holiday at their home away from home."
This said Raidersgiving is a great community-building event that crosses cultures. It gives international students the opportunity to engage in on-campus activities, meet and greet American students as well as share some flavors from their home countries.
"It may be a dinner, with people donating and providing food, but it's also an ethnic potluck because one's donations represent a person's heritage and culture," he said. "To me that is one of the great parts of this event: seeing and trying all the different foods from different cultures."
The event marks the third anniversary of Raidersgiving. When Wright State transitioned from quarters to semesters, event creators realized that some students might not be able to go home for the newly shortened break. Campus organizations like the Alumni Association, Unclassified Staff Advisory Council, Classified Staff Advisory Council, the Friendship Food Pantry, Student Government and We Serve U joined forces to make Raidersgiving the solution.
Since then GLBTQ Allies, the Latino Club, Residence Services and the Campus Catholic Ministry joined the Raidersgiving team, helping the dinner to continue to grow.
"We're now in the Allyn Hall Hangar to accommodate a larger crowd," said This. "We quickly outgrew our two previous venues."
This said board and card games will provided for some post-feast fun. He also said he is organizing the means to watch the Wright State men's basketball game play that evening.
"I think this event fits in with our mission to transform the lives of the students and communities we serve," said This. "Raidersgiving shows that Wright State provides a sense of community and really helps out its students, faculty, staff and alumni and provides a safe and welcoming environment."
Students, faculty and staff interested in participating or helping to organize Raidersgiving should contact Sommer Todd at sommer.todd@wright.edu or Teresa Pack at teresa.pack@wright.edu.