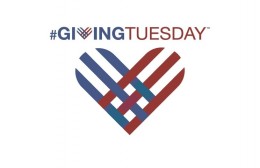 First came Black Friday. Then there was Cyber Monday. Even Small Business Saturday. Have you heard of Giving Tuesday?
Giving Tuesday is a global day of giving driven through social media channels by nonprofits, for-profits and individuals that takes place Tuesday, Dec. 2. The coordinated day of giving began in 2012, bringing charities, families, businesses, community centers and students around the world together for one common purpose: to celebrate generosity and to give.
The Wright State Student Philanthropy Council and Student Alumni Association are participating this year with a university Giving Tuesday event in the Student Union Atrium from 11 a.m. to 1 p.m.
Giving Tuesday is an opportunity for organizations to get involved in philanthropy and to show their communities how they're making a difference in today's world. Wright State provides many opportunities that help students succeed because of the generous support from Wright State alumni and friends.
While most Giving Tuesday efforts typically span just one day and are driven by social media campaigns, student philanthropy leaders are approaching Giving Tuesday at Wright State largely as an educational awareness opportunity.
The money raised from this year's Giving Tuesday will benefit the Rise. Shine. campaign, generating funds for numerous initiatives on campus, including: increased opportunities for scholarships, undergraduate research and experiential learning, endowed professorships to attract top scholars and construction of facilities that will propel Wright State students and faculty to the forefront of their fields.
The event will feature plenty of entertainment, including a cash cube, a money machine that participating students, faculty and staff have the opportunity to enter and grab as much money as possible; an appearance by Rowdy Raider; and live music from WWSU, Wright State's student-run radio station.
Participants can write thank you notes to alumni and friends who are supporting Wright State scholarships and students.
The event will seek to educate students on the impact that financial support has on their education, their experiences and why the support they can offer, both as students and alumni, is important too.
Because of firsthand experience, many students already know how impactful donor support can be to their success in college, but others may benefit from being reminded just how many of their peers are helped by the generosity of others.
To learn more about Giving Tuesday at Wright State, contact Annual Giving at (937) 775-3958 or amy.n.jones@wright.edu.