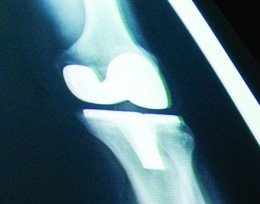 Wright State Physicians Orthopaedics will offer an educational session, "Total Knee Arthroplasty — Facts and Myths," on Tuesday, Jan. 20, at 7 p.m., in classroom 1 on the second floor of the Wright State Physicians Health Center, 725 University Blvd. The session is free and open to the public.
The speaker is Matthew W. Lawless, M.D., a fellowship-trained orthopaedic surgeon who focuses on knee issues. He is certified by the American Board of Orthopaedic Surgery in the orthopaedic sports medicine subspecialty. Lawless is an associate professor in the Department of Orthopaedic Surgery, Sports Medicine and Rehabilitation at the Wright State University Boonshoft School of Medicine. He also serves as team physician for Wright State Athletics.
Lawless will speak about knee arthroplasty, a surgical procedure used to provide relief from knee pain by replacing parts of the knee joint with artificial parts. This is an option used when other treatments — weight loss, medicine, injections or physical therapy — do not work. He will address operative and non-operative treatments for knee pain and their results. He also will discuss the importance of balance and motion.
Videos of past sessions may be viewed at wrightstatephysicians.org/ortho/video.
To register for the session, contact Amy Leach at amy.leach@wrightstatephysicians.org or (937) 208-2128.
Wright State Physicians Inc. includes more than 160 physicians affiliated with the Wright State University Boonshoft School of Medicine. The group provides primary and specialty care in a wide range of specialized diagnostic and treatment services throughout the Dayton region.