Julia Serano, Ph.D., a transgender activist, biologist and spoken-word performer, will visit Wright State University from March 24-26 as the Women's History Month Scholar-in-Residence.
Serano's visit is sponsored by the Women's Center and Women's Studies Program, which host a scholar or artist every March.
"Serano provides students, faculty and staff the unique opportunity to interact with a well-established and cutting-edge scholar who is also a poet and musician," said Hope Jennings, Ph.D., Women's Studies Program director, and Kelli Zaytoun, Ph.D., Women's Center interim director. "She is both a scholar- and-artist-in-residence, which should make for a dynamic residency."
Serano has a Ph.D. in biochemistry from Columbia University and was a researcher at the University of California-Berkeley in evolutionary and developmental biology for 17 years.
She is the author of two books, including "Whipping Girl: A Transsexual Woman on Sexism and the Scapegoating of Femininity," which describes Serano's personal story and her experiences and observations both pre- and post-transition, and gives a representation of trans women in the media, pop culture and health sciences.
"Whipping Girl" was selected as the Women's Center's spring reading discussion and was also assigned to students in the Women's Studies course Introduction to Sexuality Studies.
During her residency, Serano will join the Women's Center reading discussion group on Wednesday, March 25, and later will visit the Introduction to Sexuality Studies class to discuss her book and answer questions.
"We are excited about having Julia here because of her truly interdisciplinary background as a transgender activist, an evolutionary and biology researcher and a spoken-word performer," Jennings and Zaytoun said. "Because she comes from a variety of insights and areas of expertise, we hope that students, faculty and other community members will gain a better understanding of the complexities of trans experiences, as well as how to build more inclusive social justice movements through forming coalitional strategies and partnerships."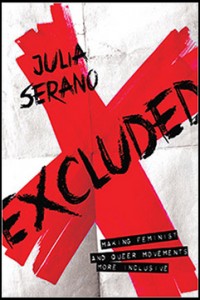 Serano will give the Women's History Month keynote address on Tuesday, March 24, from 12:30 to 2 p.m. in the Millett Hall Atrium.
She will discuss her second book, "Excluded: Making Feminist and Queer Movements More Inclusive," which aims to empower people to challenge sexism and marginalization within various social justice movements. Immediately following the keynote address, she will sign copies of her books, which will be available for purchase.
As part of her three-day campus visit, Serano will meet with members of the Rainbow student organization, faculty and staff members of Allies and Women's Studies affiliate faculty.
Serano's residency will conclude with a poetry and activism workshop on Thursday, March 26, from 9:30 to 11 a.m. in E156 Student Union.
Serano will share her experiences as an activist and spoken-word artist. She will perform some of her poetry and lead a discussion on the intersection of art and activism.
Space is limited and registration is required. Call the Women's Center at (937) 775-4524 to reserve a seat.