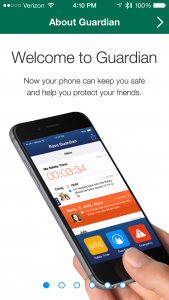 Students, faculty and staff at Wright State's Dayton Campus will soon be able to call university police at the touch of a button, text officers from their smartphones and have guardians virtually follow them across campus until they safely reach their destination with a new safety app for smartphones.
Tested over the summer, campus administrators believe the new Raider Guardian safety app will be like putting a blue light phone in the palm of your hand.
"It is a free app for smartphones that will provide a number of new tools for the university as far as being safe on campus and feeling safer on campus," said Kimberly Nagel, director of emergency management.
One key feature of the app includes a two-push panic button that connects users to Wright State police dispatch. Users can also choose an instant 911 button that calls off-campus 911 dispatch centers.
If users would rather send text messages, and so many people would, they can now text Wright State police with tips or concerns instead of having to call. Texters can also send images that can be helpful.
"For example, if they see graffiti or other vandalism on campus they might text that photo to police so the responding officer knows what they need to be looking for," said Nagel. "The texting function of this app is so important because it is such a common way for people to communicate on a day-to-day basis. They're texting already, so let's provide them a way to talk to our police department that way."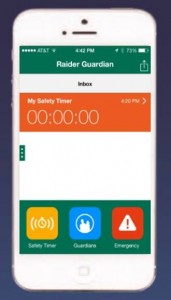 Users may also find the safety timer feature to be a helpful tool.
The namesake feature of the app offers users an ability to select a "guardian" from their contacts or the university police department. Guardians follow users virtually to their destination. Users engage the safety timer when they leave and turn it off when they arrive to their destination safely. If they don't turn off their safety timer before it expires, then their guardian is notified with a message to check on the user.
"We hope that most of these expired timers will be instances where they forgot to shut their timer off when they reached their destination, but in case there is an emergency, then there is this safety feature built in where the guardian can actually follow up," said Nagel.
Adding a campus safety app to the university's safety tool kit has been a priority for Student Government, which pushed for the service and has been intimately involved with the project for the last 18 months.
"This is very much about meeting the students where they are," said Nagel. "These apps have been around a few years and waiting until now to adopt it ensures that the technology is reliable, and the company we've chosen to work with is stable and dependable.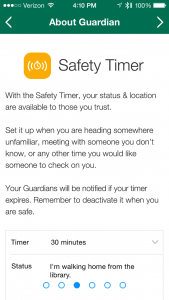 Raider Guardian is also ADA compliant, so users who are disabled will be able to add it to their smartphones and tablets too. Users with flip phones can still use the app by texting with police as well.
"This is something that Wright State University thought could be a useful tool to increase the safety across campus. It's about providing tools that our community is more apt to use and are more accessible to use too," said Nagel.
Raider Guardian is currently in the final testing phase and will be available to all of the Dayton Campus community by Move-in Day Aug. 27.
Though work continues with the vendor to make it available in the future, the app is not yet ready for use at the Lake Campus.