Wright State shuttle drivers. They're one of the first and last faces students see on campus on any given day.
Shuttle drivers routinely drive hundreds of students to and from various buildings, apartments and parking lots.
"I like it, honestly. Generally, they're fairly quick," said junior Antowoine Winters, a double major in music performance and financial services who has taken the shuttles for three years. "You're waiting 10 minutes for their cycle to run, and it's better than driving like a vulture in the parking lot."
Barb Hawkins, the first female Wright State shuttle driver, greets every student individually as they step onto her shuttle.
"Barb is wonderful; she is always smiling and happy," said Jessica Perry, a senior majoring in accountancy. "It's nice to talk to someone so bright and positive coming to and from school, especially if it's a gloomy Monday morning or you've had a particularly difficult exam."
Hawkins and the other shuttle drivers can tell when students will take the shuttle.
"Just by their legs or their feet, I know they're coming to me," said Hawkins. "You know, I want to wait for them, that's my job. I'm also on a time schedule. … If there's 20 students coming to me then I'll wait for them because that can be a matter of if they make it to their class on time."
Before driving for Wright State, Hawkins was an elementary and high school bus driver for 15 years.
In terms of the student riders, Hawkins said, "You guys are wonderful because you're not crawling under my seats, you're not hitting each other, and your parents aren't coming to my door complaining about something. You guys are a joy."
Hawkins said that she typically picks up 275 to 375 students per day.
The pattern of a student's day is often expressed on his or her face.
"I can sometimes read their moods," Hawkins said. "You can tell when they get on the bus whether they got something on their mind and if they want to be to themselves, and other times just greeting them will bring out some conversation."
Hawkins said she had conversations with students who were traveling to Paris who later came back and brought her mementos.
"I ask their graduation date and follow students on their journey," she said. "I know from working in the elementary and high school buses that students don't always have the best family life … and if they had one person that greeted them and let them know 'you're important to me,' then maybe that'd help them get through their day."
Clarence Lewis, lead shuttle driver, has been driving students for 15 years. He drives Route 2, stopping at apartment complexes in Fairborn, campus housing and in front of the Student Union. He said he enjoys his job and giving advice to students.
"I enjoy conversations with the young people," he said. "It's not just about taking students (to their destination), it's about giving advice and sharing experiences. And it's free. Continuous five-minute conversations can turn into two to three hours a semester."
Students who ride the shuttles are familiar with Hawkins' friendly wave, smiles and conversations and each shuttle driver's personality. The shuttle drivers have a positive reputation among the students.
"I think they're friendly," said Winters. "They're not someone you usually think as a gruff bus driver. They're very amiable."
"They are great and all of them are friendly," said Perry. "One really great thing is that when I am at school late, the driver will take me right to my car and make sure it starts OK before leaving."
The shuttle drivers also appreciate each other. Hawkins and Lewis both agreed that they enjoy working with fellow shuttle drivers and for their supervisor. Lewis said the shuttle drivers are all dedicated.
"The other drivers are there for you," Hawkins said. "Like a community. That's not something you see every day."
Even parking attendants who issues warnings about parking violations or fines want to maintain a positive attitude and perspective for students.
Greg Johnson, the lead parking attendant who has worked for Wright State for 26 years, says that he ultimately is here to help students by giving advice and plenty of warning tickets before issuing fines.
"I try to be as helpful as I can," he said. "We write tickets, but we're really here to help the students."
His handheld computer-like device tells him if a driver is registered or not. Many fines are issued when students park in faculty parking spaces or have a fake, expired, wrong or absent permit. White-lined spaces are for students and yellow-lined spaces are reserved for faculty and staff until 4 p.m.
"I try to keep a positive attitude," said Johnson. "We get hollered and screamed at a lot but after a while you say, 'God bless you, have a good day' and they look at me weird and say, 'Why are you being nice to me, mister?' And I say, 'Because I'm supposed to.' But they say, 'But you are ticketing us.' But that's my job if you park in the incorrect parking place or don't have a parking pass."
Lot 20, where the Shuttle Route 1 and 1X pick up and drop off students, is rarely filled all week. Students can turn in their regular parking permit for a Lot 20 permit and potentially receive money back since Lot 20's permit is cheaper.
"It is much cheaper to buy a Park and Ride Pass than to buy a regular parking pass," said Perry, who has been riding the shuttles since her freshman year. "It also requires a lot less walking as Lot 20 is not too large and there is shelter there. It's really great when the weather is bad because the shuttle drops you off right at Millett so you don't have to walk very far as opposed to parking way out somewhere in Lot 4 and walking all the way to a building."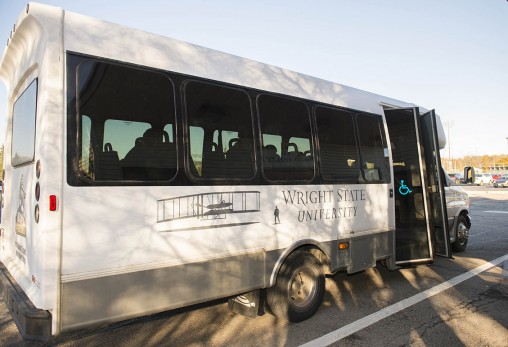 The busiest times to park are on Tuesdays and Thursdays especially around 10:30 a.m. Students are encouraged to use Lot 20 or the Wright State Nutter Center parking lot for a quick parking spot and shuttle pickup.
Shuttle drivers can also drop off students at the Fine Arts Center and Wright State's Mini University Child Care and Child Development Center.
The drivers keep lost-and-found items for a day and then hand them in to the Wright State Lost and Found in the Customer Service Center in 065 Allyn Hall. Lost and Found is open from 8 a.m. to 4:30 p.m. Monday through Friday. Individuals must present valid identification to retrieve lost property, which is only held for 30 days.
The Office of Parking and Transportation offers motorist assistance for those in need of a battery jump, air for tires or gas. The motorist assistance number is 937-775-5678.
A 2015-2016 commuter or residential community parking permit is $61 per semester, $116 for two semesters and $140 for a fall through summer year. Commuter Park and Ride Lot 20 permit is $17 per semester and $32 for fall and spring semesters.
More information about Wright State's Parking and Transportation office is available at wright.edu/parking-and-transportation.