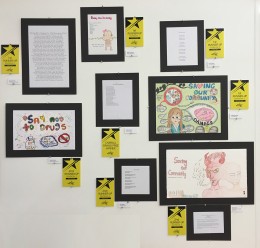 The winner of a Montgomery County Drug-Free Coalition poster and poetry contest will have the option of selecting a $2,000 scholarship to Wright State, thanks in part to the work of two instructors in the university's College of Education and Human Services.
Calvin Cusack, a student at Carroll High School, is the contest's grand prize winner for his poem "Save Our Community." He will receive a $100 cash prize and his choice of college scholarship awards (subject to acceptance and enrollment) to Wright State University ($2,000), Sinclair Community College (9 credit hours) or the University of Dayton ($5,000).
Fairmont High School student April King, who won of the 2015 Drug Abuse Prevention Poster Contest, plans to attend Wright State.
The 2016 poster and poetry contest was sponsored by the Montgomery County Drug-Free Coalition. Ryan Taylor, internship and community engagement coordinator in the College of Education and Human Services, and Mary Huber, assistant professor in the Department of Human Services, are members of the coalition. They have actively worked to decrease heroin use and increase awareness and education on drug use in the community.
The contest was open to all Montgomery County students in grades six through 12. Entries were organized into divisions for students in grades six through 8 and grades nine through 12.
Runners-up in the poster category were Abigail Kerestes from Wayne High School, Natalie Davis from Chaminade Julienne High School, Makayla Citrigno from Kettering Middle School and Kayla Wortham from Meadowdale PreK-8 School. Runners-up in the poetry category were Lauren Sears from Carroll High School, Chris Guptil from Carroll High and Savignon West from the Dayton Leadership Academy.
Contest participants were honored March 9 during a program at K12 Gallery & TEJAS.
Entries were required to increase public awareness of the harmful effects of heroin, opiates and illegal prescription drugs.
Organizers hope the contest will encourage discussion both in the classroom and in the home, Taylor said. It's also an example of how Wright State plays an active role in the community and in local public schools, she said.
Faculty, staff and students in the College of Education and Human Services understand the effect drugs can have on families and the community, Taylor said.
"Not only are we teacher educators impacting students on that personal level, but we're also mental health counselors, rehabilitation counselors, chemical dependency counselors. The whole person is what we are aiming to impact and improve the overall quality of life in Montgomery County and further," she said.