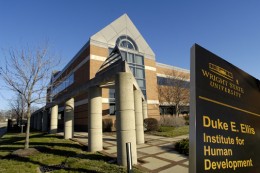 Wright State's School of Professional Psychology will host a free Community Health Fair Thursday, May 19, from 1 to 7 p.m. at the university's Duke E. Ellis Human Development Institute, located at West Third Street and Edwin C. Moses Boulevard in Dayton.
The event is open to people of all ages. Screenings will be offered for adults 18 and older.
This year's health fair will include free screenings for blood pressure, blood sugar, HIV and Hepatitis C, mammograms and mental health screenings for anxiety, depression and post-traumatic stress disorder. Attendees can also learn about various health service agencies and other information like how to apply for and earn a General Education Development diploma.
"Our purpose with the Community Health Fair is to connect citizens of Dayton with different services available to them while also offering vital screenings free-of-charge to check for ailments prevalent in today's society," said Austin Hopkins, an Ellis Institute intern and Wright State public health graduate student.
The fair will also feature 20-minute-presentations from 1:30 to 5:30 p.m. The presentations will include "The diagnosis of autism" by Beth Hurt, instructor, professional psychology; "Diabetes Prevention" by Nikki Rogers, assistant professor, community health; "Mindfulness" by Wendy Dragon, assistant professor, professional psychology; "Fetal Alcohol Spectrum Disorders" by Eman Khwaja, clinical psychology student; "Chronic Pain" by Jeff Cigrang, assistant professor, professional psychology; and chair yoga sessions led by public health graduate student Alex Keller.
Snacks and bottled water will be available to those who attend the event.
Participating vendors include the School of Professional Psychology, Wright State's Boonshoft School of Medicine, Premier Health, Mobile Mammogram, Drew Health Screenings, Public Health Dayton and Montgomery County, Community Garden, Red Cross Equitas Healthcare, Dayton Fire Department, Montgomery County Sheriff's Office, Center for Healthy Communities, Buckeye Healthcare, Ohio State University-Dayton free programs, Area Agency on Aging, Abuse Hotline, Life Essentials and CareSource.