Each school year brings a cycle of new students, new events and new books to read.
Wright State's Common Text Committee chose the book "Pivotal Tuesdays: Four Elections that Shaped the 20th Century" by Margaret O'Mara for the incoming class of 2016.
O'Mara will visit Wright State on Wednesday, Nov. 2, and Thursday, Nov. 3, to give a Presidential Lecture and participate in a series of events.
O'Mara's Presidential Lecture begins at 7 p.m. on Nov. 2 in the Apollo Room of the Student Union. Her lecture is free and open to the public. Tickets are not required. She will sign copies of her book after the lecture.
A public reception will precede the lecture at 5:30 p.m. in the Student Union Endeavour Room. The lecture and reception are co-sponsored with the Common Text Committee.
First-year students are encouraged to check in before the start of the Presidential Lecture Series event to be considered for the First Year Student Distinction Award.
The Departments of History and Political Science will also host a campus reception with O'Mara on Nov. 2 from 2 to 3:30 p.m. in the Millet Atrium.
On Nov. 3, the Big Read is scheduled from 9 a.m. to 4 p.m. in the Educational Resource Center, 116 Allyn Hall. The Big Read involves reading all of "Pivotal Tuesdays." It also includes free refreshments and door prizes. O'Mara will attend the first hour.
"We read the whole book through, out loud," said Catherine Queener, director of First-Year Programs in University College. "The marathon reading session gives people a time to come together and experience something that they haven't experienced since they were a kid — that is being read aloud to."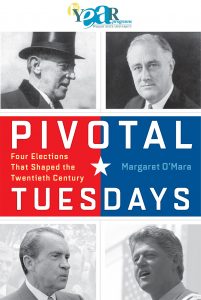 The Common Text Reading Program gives incoming students a shared academic topic or discussion point in common to discuss with the academic community. The program customizes a selected book for Wright State students, creating a special edition copy unique for the incoming students.
Common Text must have a theme that resonates with first-year students, must be applicable in a variety of courses and must be able to be connected to service-learning opportunities.
"The Common Text enhances the likelihood that the incoming class will feel 'hey, we're all in the same group,' and that's important for them to feel that they're part of a group," said Queener.
The Common Text Committee selected "Pivotal Tuesdays" because of its focus on presidential elections.
Published in 2015, "Pivotal Tuesdays" discusses the commonalities between this year's presidential election and previous elections in the 20th century. It also examines how emerging technology and third-party candidate shape each election cycle.
"This book is about the process of democracy and our unique American system for electing a president," said Queener. "This is the way we put our candidates to the test in the U.S.A. And this book shows you through the march of time that the cycle repeats over and over."
O'Mara is a well-known historian and associate professor of history at the University of Washington. She has developed courses centered on the four elections covered in "Pivotal Tuesdays."
She is also the author of "Cities of Knowledge: Cold War Science and the Search for the Next Silicon Valley," which showed how politics and culture shaped the metropolitan geography of high technology.
O'Mara earned her M.A. and Ph.D. in history from the University of Pennsylvania and her B.A. from Northwestern University. Prior to her academic career, she worked in the Clinton White House and served as a contributing researcher at the Brookings Institution.
During her visit to Wright State, O'Mara will also visit three classes.
"O'Mara will visit campus to meet Wright State students right in the thick of the 2016 presidential election campaign, right before we go vote," Queener said.
Maureen Barry, Common Text committee co-chair and first-year experience librarian in the University Libraries, said she hopes O'Mara's visit gets students engaged in the political process.
"I would like to see them, from reading this, to make it a goal to be more engaged in the process and to educate themselves and not just vote to say they voted," Barry said.
"It will be a chance for us to show our community that Wright State can discuss politics in a congenial as well as intellectually robust way," she said.