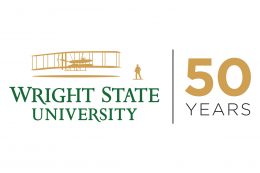 Wright State University will dedicate the Vishal Soin Innovation Park at 11 a.m. on Friday, Feb. 17. The dedication will take place inside the former corporate headquarters of the Wright-Patt Credit Union at 2455 Presidential Drive.
The Vishal Soin Innovation Park, which is supported by a gift from the Soin Family Foundation, is located on the south side of Colonel Glenn Highway, directly across from Wright State University's Dayton Campus. Comprised of five office buildings along or adjacent to Presidential Drive, the park provides more than 220,000 square feet of space.
"The Vishal Soin Innovation Park allows us to expand the physical footprint of Wright State University and positions us even closer to the highly traveled Interstate 675 corridor," said Wright State University President David R. Hopkins. "Most importantly, the Vishal Soin Innovation Park will create new partnerships for research and innovation in the Dayton region."
Hopkins announced that Nucleus Fairborn will be one of the first new tenants within the Vishal Soin Innovation Park. A partnership between the City of Fairborn, Wright State, Greene County, NucleusCoShare and The Entrepreneurs Center, Nucleus Fairborn will be the first co-working facility in the region outside of downtown Dayton.
Along with offering physical work space, Nucleus Fairborn will provide a creative, social atmosphere where entrepreneurs and start-up companies can collaborate on new ventures. The co-sharing facility is currently scheduled to open in May 2017 at 3040 Presidential Drive.
Other buildings within the Vishal Soin Innovation Park currently house the Wright State University Foundation and Double Bowler Properties, the university's real estate acquisition company.
Several aerospace and defense contractors also reside in the park, including Aerospace Business Development Associates (ABDA), Inc. For more than 30 years, ABDA has been successfully providing its clients with an affordable, local presence and advocacy for working with the Department of Defense and industry.
Aptima, Inc., the nation's leading human performance engineering company, has had an office in the Vishal Soin Innovation Park since 2007. "Aptima chose our Fairborn location as part of our strategic vision for growth," said John Feeney, director of Aptima's Ohio operations. "This location has enabled us to be close to our customers at the Air Force Research Laboratory and partners at Wright State University, accommodate our expanding need for space, and at the same time offer an easy-to-access office for Aptima team members living in the greater Dayton area."
The Design Knowledge Company (TDKC), which is headquartered in the Vishal Soin Innovation Park, has enjoyed a successful partnership with Wright State University for the past 10 years. TDKC develops advanced technology solutions for the Department of Defense and employs a variety of science and engineering professionals.
"Our office location in the Vishal Soin Innovation Park provides a prime location due to its proximity to both the university and Wright Patterson Air Force Base," said Dan Schiavone, president of TDKC.
"Wright State is one of our leading providers of employees and often collaborates with our firm on research projects," added Eric Loomis, TDKC vice president.
"As we continue to forge new partnerships with business, industry and government entities, the Vishal Soin Innovation Park will become a thriving center of collaboration where Wright State students can engage in innovative projects and research," said Hopkins. "We foresee many internship and employment opportunities for our students."
Innovation park recognizes contributions of former university trustee
The name of the innovation park honors Vishal Soin, a former chair of the Wright State University Board of Trustees. Soin, who is president of Soin LLC, served on the university's Board of Trustees from 2006 to 2015, including two years as board chair from 2010 to 2012.
During Soin's tenure on the board and his leadership as chair, the university experienced tremendous growth in enrollment, established new degree programs and converted from quarters to semesters.
Soin was also instrumental in the construction of several new buildings on campus, including:
Neuroscience Engineering Collaboration Building
Student Success Center
Wright State Physicians Health Center
Rinzler Student Sports Complex
"I will always be grateful to Vishal for his service on the Wright State University Board of Trustees," said Hopkins. "He was a true visionary for our university, always challenging us to think bigger, to broaden our horizons and become the most innovative university we could be."
The creation of the Vishal Soin Innovation Park continues the Soin family's long legacy of supporting Wright State University and its students. In 2000, Wright State renamed its business college the Raj Soin College of Business in honor of Vishal's father, Raj Soin, a highly successful entrepreneur and business owner.
In April 2015, the Amol Soin Laboratory for Translational Research opened in Wright State's Neuroscience Engineering Collaboration Building. Amol Soin, M.D., a specialist in pain management, is the son of Raj and Indu Soin and brother of Vishal.
"We have always felt that it was our responsibility to give back to the community," said Raj Soin, founder, chairman of the board and chief executive officer of Soin, LLC. "My wife, Indu, and I are tremendously proud that our sons, Vishal and Amol, share our passion for higher education and our commitment to helping improve the lives of others."
"I am incredibly honored that Wright State has chosen to place my name on this innovation park," said Vishal Soin. "Wright State is a leader in innovation, and their impact on the Dayton region will only strengthen in the years to come. I look forward to continuing to work with this great university as they impact people's lives throughout our region."
About Vishal Soin
Vishal Soin is president of Soin LLC, a holding company providing management and financial support to various Soin-owned enterprises. He manages family investments including private equity investments, seed/angel investments and real estate investments. Soin is on the Board of Directors for both CTC Plastics and Corbus, LLC and serves as the chairman and CEO for CTC Plastics and as the CEO of Corbus, LLC.
Soin lives in Beavercreek with his wife, Melissa, and their three children, Mira, Gavin and Lucas.