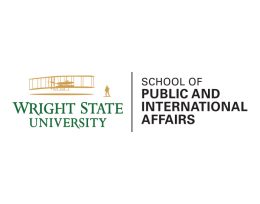 Wright State University's Departments of Political Science and Urban Affairs and Geography will merge into a new school that will prepare students to be engaged citizens and professionals capable of addressing complex social issues in today's globalized environment.
The new School of Public and International Affairs (SPIA) is a multidisciplinary collaboration for the study of public policy, politics, law, governance, management and other public interests at local, state, national and international levels.
In addition to programs in political science, urban affairs and geography, the new school will include the Master of Public Administration program, International and Comparative Politics graduate program, International Studies program and the Nonprofit Administration and Geographic Information Science certificate programs.
The new school includes 246 undergraduate students and 115 graduate students.
The College of Liberal Arts will celebrate the opening of SPIA with a public reception on Tuesday, Feb. 21, from 4 to 6 p.m. in the Student Union Apollo Room. Register for the event online.
The event will include an interview-style presentation with Tony Hall, former U.S. ambassador to the U.N. Agencies for Food and Agriculture and Dayton-area congressman. Daniel Warshawsky, assistant professor of urban affairs, and Paul Leonard, political science instructor and former Dayton mayor and lieutenant governor of Ohio, will lead the discussion. Cliff Rosenberger, a 2012 Wright State graduate and the speaker of the Ohio House of Representatives, will also offer remarks.
The School of Public and International Affairs will provide students with more opportunity for real-world application of what they learn in the classroom, said December Green, professor of political science and chair of the School of Public and International Affairs.
"We talk about it as passion meets practicality in that the people who do political science are very passionate about what they study. They are able to analyze problems and come up with solutions," she said. "But it's the urban affairs, public administration side of the house that puts those ideas to work. We really see it as a natural complement."
Jerri Killian, associate professor and associate chair of SPIA, said the school will offer a "more holistic education for all of our students, the political side of governance and the administrative side of governance."
Kristin Sobolik, dean of the College of Liberal Arts, commend the faculty for their timely and visionary collaboration.
"SPIA firmly reinforces Wright State as a leader in policy," she said. "Our faculty and staff expertise in this area is exceptional, and I look forward to seeing the curricular, programmatic and research growth in the future."
The new school will allow Wright State to offer more courses, certificate programs, internship opportunities and perhaps degree programs, including accelerated degree programs. "It provides opportunities to do more for our students in a variety of ways," Green said.
Students already enrolled in the affected programs will not see changes to their majors. "We'll still have the same classes, same professors, same requirements," Green said.
The name School of Public and International Affairs showcases the strengths of both political science and urban affairs and geography, as well as international studies and the two master's programs, in public administration and international and comparative politics.
"It sums up the breadth of what we have been doing and what we want to do," Green said.
The School of Public and International Affairs also plans to offer more public forums, research panels and career workshops for students.
"Both political science and urban affairs and geography are concerned with improving the quality of life for everybody," Killian said.