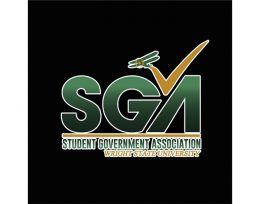 Wright State students can enjoy spring break and help others during the Alternative Spring Break Program, sponsored by the Student Government Association.
Spring break is from Feb. 27 through March 3.
Students can sign up to volunteer at the following locations:
Monday, Feb. 27: Rebuilding Dayton from 9 a.m. to 3 p.m.
Tuesday, Feb. 28: Rebuilding Dayton from 9 a.m. to 3 p.m.
Wednesday, March 1: Ronald McDonald House from 9 a.m. to 1 p.m.; and Dayton Children's Hospital from 2 to 3 p.m.
Thursday, March 2: Greene County Animal Shelter from 11:30 a.m. to 1:30 p.m.; and Heartland of Beavercreek Retirement Home from 3 to 4 p.m.
Friday, March 3: Dayton Foodbank 10 a.m. to 2 p.m.
For more information about volunteering, contact Nathan Price, assistant director of outreach and collaboration for Student Government, at Nathan.price@wsusg.com.
Carpooling to the community organizations is available. Student volunteers can also stay for free in Wright State residence halls. Last year was the first year residential students could stay in their dorms at no cost over spring break.
The Alternative Spring Break Program was created last year by Lukas Wenrick, president of the Student Government; Koty Johnson, vice president; and Brenna Doll, the College of Education and Human Services senator.
"We knew we needed to provide them with opportunities to grow as leaders and to meet the second half of our mission statement: 'To transform the lives of … the communities we serve,'" said Wenrick.
Students volunteered more than 200 hours of community service in the region during last year's spring break program.
Student Government members hope to extend the volunteer opportunities nationally and internationally in the future once the program has established a firm volunteer foundation in the Dayton region.