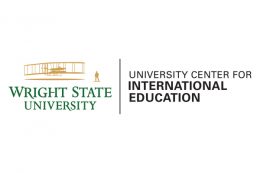 Wright State's University Center for International Education (UCIE) received a $25,000 grant to begin a student exchange program for the 2017–2018 school year with a university in Argentina.
The grant was issued through the 100,000 Strong in the Americas Initiative by the U.S. Embassy in Buenos Aires.
It will help UCIE set up an exchange between Wright State students and students from Argentina's National Northeast University of Buenos Aires.
Innovation Fund partnerships between universities in the United States and countries in the Western Hemisphere are increasing the number of student exchange opportunities and regional education cooperation.
Wright State has seen a 30 percent increase in the Latino student population, with more than 500 Latino students now attending the university. Wright State seeks to build a stronger partnership with universities from Latin America.
"This program has an intensive language program for Spanish learners," said Michelle Streeter-Ferrari, the director of the UCIE. "The benefit to Wright State students is that they would be enrolled as an exchange student so they would only pay Wright State tuition."
Wright State is the only university in the United States to partner with National Northeast University.
"We hope to get this exchange going and expand our partnership in Argentina so that more students to come and more students will go," Streeter-Ferrari said. "This will bring a little bit of Latin America to Wright State."
The exchange allows Wright State students to participate in National Northeast University's intensive language program while the university in Argentina is interested in Wright State's efforts in research, specifically in areas related to science and biology. The partnership also seeks to enhance faculty research exchanges.
National Northeast also emphasizes community service. "Wright State is committed to service and so are they," Streeter-Ferrari said. "They have service opportunities for all kinds in the community."
UCIE hopes to receive students from Argentina beginning this fall.
National Northeast University of Buenos Aires is located within Argentina's Province of Buenos Aires in the city of Junin, a city with rural agricultural elements, a potential connection for students at Wright State's Lake Campus.