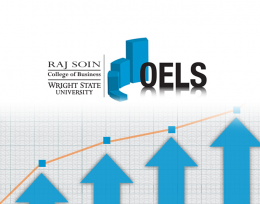 The next installment of the Wright State University Organizational Effectiveness Lecture Series (OELS) will focus on developing a transformational mindset that helps leaders create positive change.
The breakfast lecture will be held Thursday, April 6, from 7:45 to 10:30 a.m. in the Wright State University Nutter Center Berry Room. It will feature world-renowned speaker and author Robert Quinn, from the University of Michigan.
"Robert Quinn is one of the foremost thinkers on leadership in the world today. We are lucky to have him visit Wright State," said David Bright, Ph.D., management professor and chair of the Department of Management and International Business.
Visit http://www.wright.edu/event/organizational-effectiveness-lecture-series/current-event to register for the lecture.
The OELS professional development forums focus on cutting-edge leadership, organizational and HR practices by bringing speakers and attendees together to share ideas about how to help people and organizations discover, develop and achieve their highest potential.
In 2012, Wright State and four local organization effectiveness groups created OELS, with a mission focused on providing meaningful learning opportunities on leadership, organization development, and innovation.
Quinn, who has written 18 books on leadership, has spent more than 40 years researching, publishing, teaching, consulting and speaking to more than half of the Fortune 500. Quinn is known for his work on the competing values framework, which is used by tens of thousands of managers.
Quinn will talk about:
How to develop a transformational mindset, not only in individual leaders, but across organizations
The difference between a conventional and a positive mindset, and why it matters
How to strategically encourage people to act from a state of fundamental leadership to truly engage in and transform the context for organizational success
"Quinn's approach relies on the idea of 'mindset.' Converting from a conventional to a positive mindset allows a leader to create influence at the highest level," said Bright. "While this idea may seem obvious, what it really means to hold a positive mindset is actually very challenging. Quinn's research helps to reveal how to be a genuinely transformational leader."
Quinn is a chaired professor at the University of Michigan's Ross School of Business. He is co-founder of the Center for Positive Organizations. He is also a fellow of the Academy of Management and the World Business Academy.
His best-selling volume, "Deep Change" has been used across the world. His recent book, "The Best Teacher in You" won the Ben Franklin Award, designating it the best book in education for 2015. His latest book is "The Positive Organization: Breaking Free of Conventional Cultures, Constraints and Beliefs."
More about Quinn can be found at bob-quinn.com or on his blog of daily positive passages at thepositiveorganization.wordpress.com.