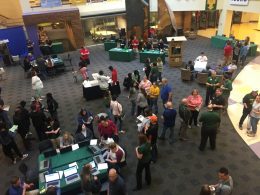 Excerpt
Incoming Wright State University students on Monday said they were either unaware or not bothered by the school's recent troubles.
Nearly 700 students visited WSU yesterday as part of the college's first "signing day" event, said Jen McCamis, WSU director of admissions. The event was meant to be a celebration where incoming students could sign a letter of intent, register for placement tests and get some information about the university.
Event coordinators said they did not receive any questions about the problems the school is facing, including a budget crisis and an ongoing federal investigation into possible immigration-related wrongdoing.
Read the entire story at daytondailynews.com