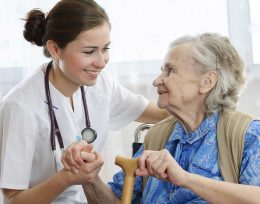 The Wright State University Boonshoft School of Medicine Center for Healthy Communities HealthLink and the Ohio Statewide Area Health Education Centers (AHEC) Region IV are sponsoring a seminar, "Elder Care: Mental Health Needs with Seniors."
The seminar will be Tuesday, June 13, 8:30 a.m. to 12:30 p.m., at the Madison Lakes Learning and Conference Center, 581 Olive Road, Dayton, Ohio 45427. Parking is free.
The seminar will provide professionals with information related to cognitive and physiologic changes that occur with aging. Participants also will learn about what it is like to live with dementia. Nurses, social workers, counselors and marriage and family therapists will be able to use this information to assist clients and their families.
Presenters include Jeffery Allen, Ph.D., associate dean and professor in the School of Professional Psychology at Wright State; Jane Eckels, clinical services director, Alzheimer's Association Miami Valley Chapter; and Mary Jo Trout, Pharm.D., assistant professor, Department of Geriatrics and Pharmacology and Toxicology at Wright State.
Space is limited. There is a $20 nonrefundable registration fee. To register, go to medicine.wright.edu/healthlink.
For more information, contact Cindy Bradley at 937- 775-8248 or lucinda.bradley@wright.edu.
The Center for Healthy Communities HealthLink and AHEC Region IV present the series of continuing education quarterly seminars for health care professionals and interested community members.