Families in Nicaragua sometimes have to walk for hours for clean drinking water. Twenty-four Wright State students decided to help, spending a week working alongside the community to not only change the lives of the families they helped, but their own.
Global Brigades is an organization that assists communities in several Central American countries with medical needs, dentistry, business, public health and legal assistance for families. The organization's mission is to empower communities to reach a strong level of sustainability.
Kristie Dinh, a sophomore biological sciences major, brought Global Brigades to Wright State after being inspired by a friend who is the president of a public health chapter at the University of Cincinnati.
"I went to one of their meetings and thought that Wright State needed a chapter too. I didn't think that I would actually do it, but I ended up spontaneously doing it," she said.
Dinh chose to put together a public health brigade because she believes that public service is important for all students.
"It's something that all majors can relate to," she said. "We had engineering, journalism, science and business majors. A few graduate and medical students also came. I think that everyone should have an opportunity to travel, and it was awesome to have different majors working together for a common cause."
Putting the brigade together was a challenge for Dinh because of all the work involved before the students even went on the trip. The group hosted fundraisers, worked on local community service and met biweekly.
Dinh said that she had lots of help from other members of the group.
"I can't begin to thank them all. It was incredible to witness people supporting and believing in something that is so much bigger than any of us, and it was an honor to lead it," she said.
Megan Trickler, coordinator for the Education Abroad Program in Wright State's University Center for International Education, said that, while other students helped coordinate the trip, Dinh did the "lion's share" of the work.
In Nicaragua, Wright State students built four sanitary units, which consist of a shower stall, bathroom stall, sink and laundry area and septic tank; three concrete floors; and four eco-stoves, which filter the smoke of a fire outside to prevent lung disease.
"No amount of statistics or people telling you what you're going to see will really ever compare to what you actually see when you go there," said Katie Muterspaw, a biological sciences major. "I was completely shocked. I feel like I'll never see something like that in the U.S., maybe not ever again."
Trickler said families in that area of Nicaragua typically use outhouses and bathe or wash laundry in a nearby river. However, the sanitary unit will prevent recurring health problems that come from bathing and washing clothes in a river.
Maddie Jewell, a neuroscience major, said that one of the families the students helped had to walk for an hour to get clean water.
The students also worked with local children to teach them basic sanitation information, as well as physical and emotional health. Jewell said they used emojis to discuss how children were feeling.
During the first four days of the trip, the students built the sanitation equipment. On the fifth day, they moved to a new project, a water brigade, which is helping a community that had almost no water supply. To do this, the community must install pumping equipment and dig a three-mile trench to the nearest water source. The Wright State group attended the project's groundbreaking.
"Wright State is the first university to start this project. We started the trench with our pickaxes," Trickler said.
An important part of Global Brigades' work is that the communities they work with participate in the assistance they receive. In Nicaragua, a committee planned for the work the Wright State students would do.
"There was no North American on this committee," Trickler said. "It was an all-women committee that helped raise money and help decide what they were going to do."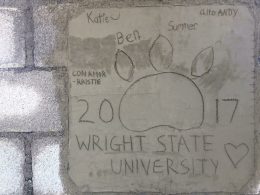 For Mike Ciesa, a graduate student studying anatomy, the most memorable part of the trip was when Abuela, the matriarch of the community, thanked the group for coming down to help.
"You could tell it was extremely genuine. A good amount of us were very emotional afterwards. It was very touching," he said.
Muterspaw also said that the reaction from the community was moving. "I've never met people who were so genuine," she said.
One man in particular, she said, came and hugged her while saying the same phrase over and over again. Because Muterspaw speaks little Spanish, she did not understand what he was saying. The students' translator explained that the man was saying, "'God bless you, He'll be waiting.' It was really hard to leave that," she said.
Dinh said her favorite part of the trip was making connections with the brigade members, the people the student met and the communities they helped.
"It was crazy how in just three days, we bonded so strongly with the families we built the systems for. I really enjoyed spending time playing with the kids, interacting with the adults and just building. It was so hard to leave them," she said.
Joy Wanderi, associate director of the University Center for International Education, said the amount of work the students put into the project is a "true testament to the kind of students that went on the trip."
"If nothing else, you have to have passion. I don't see how you can do Global Brigades without passion," she said.
For Dinh, being in charge of the trip was a touching experience.
"I was strongly impacted by the communities we worked for and the growth I saw in our group members throughout the week," she said. "There were no words to describe the emotions we all felt. In the end, the communities of Nicaragua gave us more than we could ever give them."