Wright State education students worked directly with plant biologists from around the globe to create an investigative and project-based inquiry project.
Leonard Kenyon, instructor in biological sciences, had his pre-service teacher students in Biology for Early and Middle Childhood Education classes participate in the PlantingScience program, a partially National Science Foundation-funded program described as a "learning community where scientists provide online mentorship to student teams as they design and think through their own inquiry projects."
A Wright State student group was selected as one of 12 "Star Project Awardees." Their project was chosen out of nearly 400 across the nation. Hannah Westfall, Elizabeth Barhorst, Erica Oldiges and Nicole Borgerding conducted an investigation that explored how mycorrhiza fungi, bacteria powder and earthworms each affect the germination rate of spinach.
PlantingScience is an online resource for teachers and schools, primarily middle and high school, and undergraduate institutions. Students are engaged in the scientific practices and the Next Generation Science Standards. Students create science investigations in plant biology by partnering with a mentor plant biologist.
"It's really cool for these students to have a real plant biologist as a mentor that can guide their research, ask questions and keep them on task," Kenyon said.
Because PlantingScience is an international program, Kenyon said mentors from all over the world participate, and they all did a tremendous job of guiding the students' projects. The winning students' mentor, Kelly Kerr, a research assistant in plant biology at the University of Georgia, was exceedingly helpful, Westfall said.
"She's amazing, and I honestly think we had the best mentor. She was always on, she responded quickly, and we were really good about asking her a ton of questions," Westfall said. "She was so easy to talk to and guided us through everything, but also let us explore things ourselves. It was awesome having her."
The group had to research how to introduce bacteria and fungus into the soil. They mixed bacteria and fungus packets with water and poured measured mixtures into the soil with the seeds. Westfall said her group was surprised to discover that the fungus worked the best.
Westfall said having a mentor devoted to just her group helped the students to be more vigilant about their PlantingScience project. They created watering and measuring schedules, as well as specific roles for everyone in the group.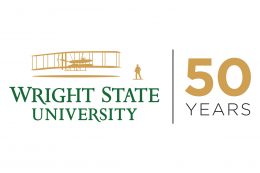 "We had really good communication. That was a key thing about our group. We communicated so well with each other," she said.
The winning students received a T-shirt, certificate, handheld magnifying glass and laptop emblem sticker. They also are featured on the PlantingScience Star Team website.
Wright State became an independent institution in 1967 and spent the next 50 years growing into an innovative leader in STEM education. In 2017, it celebrates its 50th anniversary as an independent public university, culminating with a special Homecoming celebration Sept. 29 through Oct. 1.