Wright State's student-run newspaper The Guardian is going all digital.
The newspaper's staff has decided to go paperless because of the changing ways that students consume media.
"This was a student-mandated decision," said Kristin Baughman, The Guardian's editor-in-chief. "We were looking at how we consume media, and it's really all going online."
Baughman said that focusing on online content allows the paper to be timelier and keep up with events more than the staff could in the past.
The paper's previous editor-in-chief, Leah Kelley, and Debbie Lamp, the Guardian's adviser and associate director of student activities, were responsible for starting the switch to an all-digital format.
"Then I became the new editor-in-chief, and I was like 'let's go'," Baughman said.
Founded in 1964, The Guardian had printed 5,000 papers a week. Student reporters write about events at Wright State, current events in the media and student spotlights.
Because the Guardian's website will be its main source of content distribution, Baughman is in the process of revamping it. The change, Baughman said, will let reporters branch out to add more content to the website.
"We can publish a lot more food reviews, things on campus. Really the world is our oyster right now," Baughman said. "I want to implement what writers are passionate about writing, because if a student is passionate about it and likes to write about it, there's a good chance other students will want to read about it."
Although the paper's platform is changing, the core of the paper will not change. Baughman said that staff will plan stories farther in advance, but going completely digital allows writers to be more flexible in their publications.
One of Baughman's hopes for The Guardian is that reporters will highlight more student organizations.
"That's something I really want to do, because there's so many student organizations on campus that people don't know about," she said.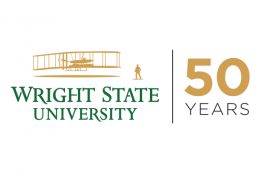 Baughman is excited for The Guardian's future.
"I think it'll be good for us. I think it'll be good for the campus," she said.
Originally founded as a branch campus of The Ohio State University and Miami University, Wright State became an independent institution in 1967. It celebrates its 50th anniversary in 2017, culminating with a special Homecoming celebration Sept. 29 through Oct. 1.