Her grandmother attended Wright State in the late 1960s and her father in the early 1980s. Two generations later and having traveled around the world, Erica Curtis found herself back in her hometown attending the same university as her relatives.
Curtis, who graduated from Wright State in December with a bachelor's degree in psychology, with a concentration in behavioral neuroscience, grew up in a military family, living in Italy and England.
While in Italy, Curtis attended a preschool that was taught by nuns. She became fluent in Italian and often translated for her parents. While in England, her family lived in a large 1890s English home.
Curtis, her parents and older brother moved to Beavercreek in 2000 after living abroad. Her father, Ben Curtis, works as a contractor for the Air Force as a chemist. Her mother is a retired banker.
Ben grew up in Xenia and received a bachelor's degree in biology from Wright State in 1984. Ben's mother, Mary Jane Curtis, received her master's degree in education in 1969 from Wright State. She passed away in 2004.
Curtis attended Beavercreek High School, where, in a class in which she mentored students with autism, she discovered a passion to help others.
"There was a boy in the class named Matt who I got paired up with. He was super shy and didn't talk to anybody, especially girls," she said. "And what ended up happening was that he ended up asking me to Homecoming."
"He touched my heart that day," she added.
Curtis continues to love to travel. "Once you travel you can't stop," said Curtis.
Her family visited Spain together, and as a high school graduation present, Curtis traveled to Texas to visit a friends who had moved there.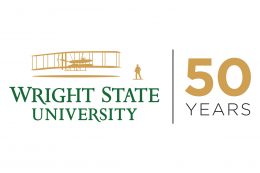 Given her family's history with Wright State, it's no surprise that the university feels like home. Curtis is considering attending graduate school at Wright State, thanks to the Neuroscience Engineering Building.
"It's so exciting over there, it's phenomenal," she said. "I have an amazing support system here and the teachers really care."
Wright State became an independent institution in 1967 and spent the next 50 years growing into an innovative leader in affordable and accessible education. In 2017, it celebrates its 50th anniversary and sets the course for the next half century.