It's 6 a.m. on a Monday and time for Zachary Schulze, an Army ROTC cadet at Wright State, to attend physical training.
Schulze, an athletic training major, runs two miles and does a series of push-ups and sit-ups for an hour before classes. Despite a busy schedule, he keeps his mind focused on his goal of joining the U.S. Army.
Schulze enlisted into the Army after graduating high school but after a year learned he preferred becoming an officer instead. So he joined the Army Reserve Officer Training Corps (ROTC) Battalion at Wright State.
"As I grew up, before I realized what I was saying, I always said that I wanted to be a soldier," said Schulze. "I was always fascinated with the military and everything in it."
He competed in varsity basketball and was a member of the Civil Air Patrol, a U.S. Air Force auxiliary program organized to develop and educate high school students on the importance of aviation and space and perform life-saving humanitarian missions. That heightened his interest in the military.
Schulze was born and raised in Fairborn to a family of eight, as the fourth of six children, and home-schooled.
He is the first person in his immediate family to join the military. His grandfather Neill Stemen served as a mechanic for bomber aircraft in the Army Air Corp and his uncles were pilots in World War II.
Schulze's mom, Karen, worked as a home-school teacher and had various jobs on base. His dad, Steve, retired as a deputy director of environmental services for Montgomery County and received his doctorate degree in strategic leadership. He recently started his own company to help other businesses with organizational leadership.
Schulze says his father is one reason why he wanted to join the military. "He would have a lot of stressful situations, but he would handle it and take it with stride and rolled with it," Schulze said. "He would figure it out and move on and could adapt to anything."
Like his dad, Schulze is learning how to adapt to uncomfortable situations, whether it's training in the heat or rain or participating in a gear swim.
Throughout the week, Army cadets participate in physical training, field training exercises where they learn field tactics and leadership skills, and attend a weekly military science class and lab. Once a semester, they're required to participate in field training for three nights and four days learning field tactics and drills.
While in the field, cadets learn infantry tactics and drills that include land navigation, assault tactics where the platoon may receive a mission over the radio, rifle qualification and basic field discipline. The cadre and upperclassmen are responsible for teaching cohesion and the execution of the tasks.
"It's about as real world as you can get without being in a combat zone from my experience from actually being in that environment," Schulze said.
But being part of ROTC isn't just hard work and training. Many of the cadets take the same courses with each other. "I've had a lot of fun in PT hanging out with friends," Schulze said.
He is interested in working in infantry or in human intelligence. Within the Army there are three branches of intelligence: human Intel, signal and cyber intelligence.
"I would love to do human intel, which is face-to-face contact with whoever to get intel for the U.S. and possibly join the CIA after that," he said. "I want to be in the infantry because when it's all said and done, everyone knows infantry is the real deal. They are the frontline force that is always comfortable being uncomfortable. I want to be part of that."
Schulze may wear camouflage for ROTC, but the demeanor he carries makes him stand out from the crowd. The main thing he has learned from the Army is self-discipline.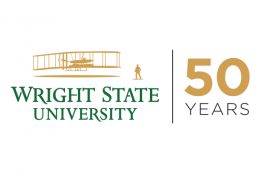 "You have to shut your mind off, follow orders and execute," he said. "Discipline is one of the main things that a lot of people struggle with. It's one of the hardest things to adapt to because self-control is very important in today's world. … The Army requires a specific type of self-control so that was one of the things that I really struggled with."
Wright State became an independent institution in 1967 and spent the next 50 years growing into a military-friendly campus. In 2017, it celebrates its 50th anniversary as an independent public university, culminating with a special Homecoming celebration Sept. 29 through Oct. 1.