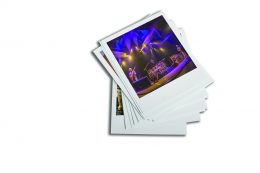 To Phish fans, the band's concert at Wright State University's Nutter Center on December 7, 1997, is legendary. Many of the band's most loyal followers believe that Phish played one of the greatest first sets in their 34-year career on that night.
On July 18, 2017 (almost 20 years later), Phish made another appearance at the Nutter Center, playing to a crowd of more than 11,000. Tickets sold out in less than two hours when they went on sale. Phish also live-streamed the Nutter Center concert to more than 354,000 fans on Facebook and more than 203,000 on YouTube.
Guest Speakers
Wright State University has hosted numerous celebrities, politicians, authors, and notable individuals over the last 50 years. Students have had the opportunity to meet and listen to former Surgeon General Dr. C. Everett Koop; consumer advocate Ralph Nader; "First Lady of American Theatre" Helen Hayes; actor-activist Jane Fonda; and the Chicago Seven conspiracy co-defendants Tom Hayden and Abbie Hoffman.
More recently, students and the public have heard from autism activist Temple Grandin; Apple co-founder Steve Wozniak; Pulitzer Prize-winner Nicholas Kristof; poet, memoirist, and activist Maya Angelou; actor-activist Edward James Olmos; actor and filmmaker Tom Hanks; and many others.
Performances to Remember
In 1979, Look Back in Anger became the first Wright State production invited to perform at the Kennedy Center for the Performing Arts by the American College Theatre Festival. Only the top 10 college productions in the country are invited each year.
Wright State was invited back to the festival in 1997 to perform 1913: The Great Dayton Flood, which won several of the festival's awards. Billed as an "epic parable with gospel blues," the play with music was based on Allan W. Eckert's Pulitzer-nominated book Time of Terror: The Great Dayton Flood. It was adapted for the stage by W. Stuart McDowell of the Wright State Department of Theatre, Dance, and Motion Pictures and then-student Timothy J. Nevits.