Wright State University's 2017 Homecoming Festival will feature the annual Chili Cook-Off, a concert by former student and touring musician Clark Manson, special anniversary beers and the Black Alumni Reunion BBQ.
The festival takes place Saturday, Sept. 30, from 4:30 to 7 p.m. in the Rinzler Student Sports Complex Parking Lot.
The day also features women's and men's soccer games at Alumni Field and a club football game.
Homecoming Week wraps up with three packed days of activities, including many class reunions, Sept. 29 to Oct. 1.
During Homecoming Week, Wright State is celebrating its 50th anniversary. It was born in a pasture and in 50 short years has grown into a muscular, thriving center of higher education. Today, Wright State University boasts high-tech classrooms, state-of-the-art research labs, world-renown faculty, a mammoth arena, a fast-growing branch campus and national recognition for its service to the community, the military and students with disabilities. Read more about the university's history >>
Homecoming Week schedule for Sept. 29 to Oct. 1:
Friday, Sept. 29
1 to 5 p.m.: Engineers Without Borders Homecoming Event, North Lawn
4:30 to 8 p.m.: Residence Life and Housing Alumni Reunion Reception, Bridge Cafe, Honors Hall
5:30 to 7 p.m.: Leadership Launch, Student Union Endeavour Room
5:30 to 7:30 p.m.: Black Alumni Reunion Weekend Welcome Happy Hour, Third Perk Coffeehouse & Wine Bar, 46 W. Fifth St., Dayton
6 to 8 p.m.: Alumni Achievement Awards, Student Union Atrium
7 to 10 p.m.: College of Education and Human Services Trivia Night, Student Union Apollo Room
8 to 11 p.m.: Residential Community Association Casino Night, Student Union Marketplace
8 to 11 p.m.: College of Science and Mathematics Pub Science, with a talk on "The Science of Beer" by Christopher Wyatt, professor and associate dean, Student Union Rathskellar 
Saturday, Sept. 30
11 a.m. to 1 p.m.: Founding Classes Reunion Brunch, with classes of 1967, '68, '69, '70 and '71, Student Union Endeavour Room
11 a.m. to 1 p.m.: Housing Reunion Brunch and Tour, Community Building
11:30 a.m. to 1:30 p.m.: Student Government Association Reunion, Student Union Pathfinder Lounge
Noon to 2:30 p.m.: Campus Recreation and Student Union Reunion, Mulholland Field
1:45 to 2:45 p.m.: Alumni College "Fun with Fire and Explosions" with Kirby Underwood, chemistry lab manager, 109 Oelman Hall
2 p.m.: Club Football versus Ohio State, Mulholland Field
2 to 4 p.m.: Model UN Alumni Reunion, Student Union Hearth Lounge
3 p.m.: Women's Soccer versus Milwaukee, Alumni Field
4:30 to 7 p.m.: Homecoming Festival, featuring the Fraternity and Sorority Council Chili Cook-off, Black Alumni Reunion BBQ and Clark Manson in concert, Rinzler Parking Lot
7 p.m.: Men's Soccer versus Detroit Mercy, Alumni Field
7 to 9 p.m.: The Guardian and WWSU Radio Reunion, Wandering Griffin, 3725 Presidential Dr.
Sunday, Oct. 1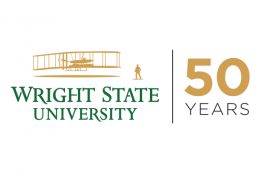 10 a.m. to noon: Student Affairs Recognition Brunch, Student Union Endeavour Room
10 a.m. to 1 p.m.: Black Alumni Reunion Interfaith Brunch, De'Lish Cafe, 139 N. Main St., Dayton
11:30 a.m. to 2 p.m.: Boonshoft School of Medicine Advancing the Tradition, Gandhi Medical Education Center, White Hall