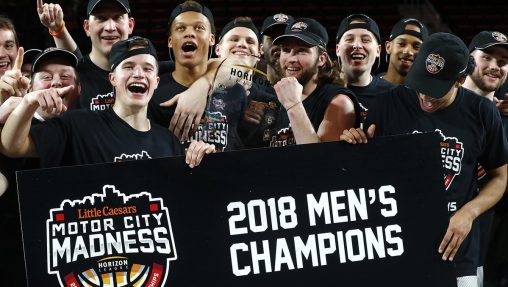 After a week of intense basketball, an energetic celebration following a 74-57 win in the Horizon League championship game and a rowdy four-hour bus ride home, one would think the first order of business for the Wright State players when they arrived back on campus at 2:45 a.m. Wednesday would be to get some sleep.
Instead, they fired up the DVR.
"We got back to the apartment and these guys put the game on," junior Mark Hughes said, nodding toward senior Grant Benzinger and freshman Loudon Love during a press conference Thursday afternoon at the Setzer Pavilion.
"I knew I had class, so I couldn't stay up," Hughes added. "I went to sleep about 3:15. But some of them stayed up and watched the whole game again. I don't know what time they got to bed."
The reason the Raiders rolled out of Detroit late Tuesday night after winning the title rather that Wednesday morning was so the players wouldn't have to miss another day of classes.
But rather than an exhausting experience, going back to class was an exciting one for the players on a small campus where everyone knows who they are and what they accomplished.