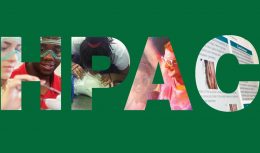 Across the state, about 2,000 high school students involved in the Health Professions Affinity Community (HPAC) program design projects each year, engaging an estimated 15,000 Ohio residents. The students are not just making a significant impact on the health of their communities, they are gaining valuable experience in health professions.
This creates a pipeline for professional development in health care, which is desperately needed to maintain the health and wellness of Ohio citizens. In the past, HPAC student projects have supported healthy cooking classes, diabetes awareness, after-school exercise classes, teen depression mentoring and many others. Project results are presented at a regional Scholars Day, and student groups who place there are invited to present at the all-expense paid State Scholars Day on April 29 at Northeast Ohio Medical University in Rootstown, Ohio.
On Sunday, April 15, the first Southern Ohio Scholars Day will be held at the Wright State University Student Success Center.
The event will bring together student groups throughout the region to discuss their projects and the health disparity they chose to address. It recognizes their scholarship, research and community engagement.
Check-in and festivities begin at 11 a.m. at the Student Success Center. Scholars Day will end at 3:30 p.m. There is no cost to attend the event. Lunch will be provided. Tours of Wright State will be offered to attendees.
To register for Southern Ohio Scholars Day, visit scholarsday2018.eventbrite.com. For additional questions or if you are interested in being a judge or room facilitator for the event, email scholarsday2018@gmail.com.
Southern Ohio Scholars Day is made possible through the effort and support of Northeast Ohio Medical University, Wright State University Boonshoft School of Medicine, Dayton Children's Hospital and other community partners and sponsors.
HPAC is a pipeline program to engage students and advance their academic and career progress toward professions in health care. By giving thousands of students across the state valuable real-world experience, HPAC empowers them through learning while also addressing health issues in our communities and the shortage of diversity in health care professions.
More information is available at medicine.wright.edu/pediatrics/hpac.