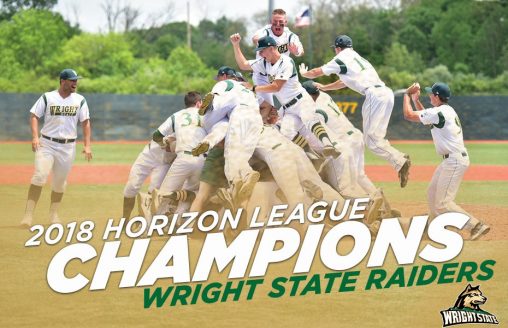 The Wright State baseball team earned the fourth seed in the Stanford regional of the NCAA baseball tournament and will play the top-seed Cardinal on Friday, June 1, at 10 p.m.
Second-seeded Baylor and third-seeded Cal St. Fullerton are also in the regional. The winner of the double-elimination tournament advances to the best-of-three super regionals June 8-11.
The Raiders earned their sixth trip to the NCAA tournament in the last 12 years by winning the Horizon League tournament, with a thrilling 11–9 comeback win over UIC on May 26 at Nischwitz Stadium.
It's the Raiders' third Horizon League baseball championship in the last four years and seventh Horizon League title overall.
In the Horizon League finals, Wright State, which is now 39–15 overall, jumped out to a quick 5–0 advantage over UIC, only to see the Flames take the lead 8–5 after the fourth.
Wright State chipped away at the deficit with one in the sixth, three more in the seventh and a security run in the eighth to seal the comeback 11–9. It marked a Wright State record with six straight games scoring in double digits.
"We showed this type of resiliency all year, and we have been able to overcome adversity and injuries," Wright State head coach Jeff Mercer said. "I brought them together when they made a run and said, if you thought this would be easy you're crazy and that kind of got a laugh, but I told them we are the better team, we are prepared, and we will come back and be OK. Just keep chugging along and fight through it."
Peyton Burdick's home run in the bottom of the seventh capped the comeback win and put the Raiders up 10-9. Burdick had three hits, two RBI and three runs scored as he was named the MVP of the tournament. Gabe Snyder had four hits and an RBI, while Zach Weatherford had three RBI on four hits, including a double and a home run.
Jeremy Randolph settled the Flames bats with 3.2 innings to pick up his fifth win of the season while Ryan Weiss came out of the bullpen to secure his first save of the year after throwing four innings in the tournament opener.
After winning the Horizon League regular season title, Wright State hosted the league championship tournament. The Raiders advanced to the finals with an 11–1 win over Youngstown State. Wright State then defeated UIC 10–1 in the semifinals.