This past spring, the Wright State Saxophone Studio ran into a problem — many of their instruments were in dire need of repair.
While the musicians have performed successfully at local concerts and at national conferences, by the spring of 2018, Shelley Jagow, professor of music, realized that several of the saxophones hadn't been repaired in years — some in more than two decades.
"We primarily needed to have two soprano saxophones and two baritone saxophones overhauled, as they have not been done so in at least 21 years," Jagow said.
The Saxophone Studio's students and faculty launched a fundraising campaign on Raise Wright, an online crowdfunding program for student-led fundraising projects through various campus organizations that is administered by the Office of Annual Giving, under the umbrella of the Wright State University Foundation.
The group set an initial goal of raising $5,000 as a part of a pilot program for the crowdfunding platform in early April. The money donated would go to returning the instruments to their optimal playing condition through repairs that included disassembling each instrument and replacing pads, springs, repair posts and leveling tone holes.
"Some of the school's saxophones were not in playing condition, and overhauling two to four saxophones will provide more impact for our students than buying a new saxophone," said Jagow, who directs the Saxophone Quartet.
While by the end of the campaign the $5,000 goal had not been met 100 percent, this new way of online fundraising — using only digital avenues like social media and email marketing — created more motivation and overall success than previous tries had.
"I don't think we truly realized how effective fundraising through social media and our own network would be," said Jagow. "Though we didn't meet the $5,000, this will still help us tremendously."
During the campaign, they also received an exciting offer from a man in Indiana who runs an instrument restoration and repair business. He saw one of Jagow's posts on Facebook and decided to offer his services.
"He saw the Raise Wright campaign posted on my Facebook page," Jagow said. "We spoke on the phone and he is willing to donate a portion of his labor to repair our instruments."
The power of social media allows groups like the Wright State Saxophone Studio to not only use Raise Wright to receive donations from people around the globe but also even find like-minded and caring individuals willing to help a worthy cause.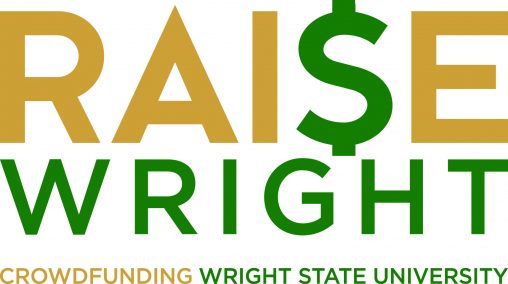 Raise Wright, similar to other online crowdfunding websites GoFundMe and Kickstarter, allows groups to fundraise both nationally and globally — anyone with an internet connection or a smartphone can donate. But, unlike the other big crowdfunding sites, Raise Wright focuses solely on Wright State-related projects and does not take a cut. That means that 100 percent of each gift is directed to the student-led projects, even if the project falls short of its monetary goal.
"For years, we have had faculty, staff and students trying to start fundraising efforts through these channels," said Amy Jones, director of annual giving. "But many people don't know that Kickstarter takes a 5 percent cut and an additional 3-to-5 percent cut in processing fees. With this new platform, all donations to the project will go directly to that project. No fine print."
GoFundMe, until recently, also took a 5 percent cut of donations, plus 2.9 percent in processing fees, and 30 cents per donation. As of 2018, the platform still charges the processing fee, but instead asks users to give a voluntary tip of up to 15 percent.
"It's a wonderful new way for our alumni and donors to support students directly," said Jones. "I think that really resonates with our alumni. This platform allows them the chance to give to something they are truly passionate about — our students and their achievements."
Since launching its pilot program last spring, Raise Wright has featured five projects, including campaigns for new equipment for the Wright State softball team; for funding special projects for students in the Public History Program; for donations to help LEAP Intensive English Program students achieve their English learning goals outside of the classroom; and an exclusive campaign to raise funds to repair and restore an authentic Wright 1912 Bent End propeller used by the Wright brothers, currently in the Wright State University Special Collections and Archives.
Apply for a Raise Wright campaign projects
Applications from student, faculty and staff for Raise Wright campaign projects are now being accepted. Applicants are encouraged to apply as soon as possible to be considered in the first round of projects for the university's Giving Tuesday event.
Visit wright.edu/raisewright to view campaign information.