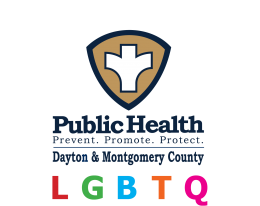 More is becoming known about the health and aging needs of LGBTQ people nationally. In some ways, the knowledge is being leveraged to improve health care, public services and quality of life for LGBTQ people.
Unfortunately, the same can't be said for LGBTQ people living in the Miami Valley. A lack of data on the health and aging needs of LGBTQ people in local communities has hindered Dayton organizations striving to better serve them. And though national data can be used to generalize what their needs may be, there's no substitute for information collected locally.
To help solve this data gap, students at the Wright State University Boonshoft School of Medicine are working with an alliance of community organizations to lead the LGBTQ Aging with Pride Survey. The survey includes questions on background demographics, health care, social support, and personal relationships and behaviors, as well as a needs assessment. It's tailored to individuals age 50 or older, but all those 21 years or older and identifying as a member of the local LGBTQ community can participate.
"We want to take the pulse of the health and needs of our LGBTQ+ community to see where gaps and disparities exist from the community's own point of view," said Anne Proulx, D.O., associate professor of family medicine and principal investigator. "From there we can look for funding and support services that may be needed and lacking currently."
Proulx's research team includes Tim Crawford, Ph.D., assistant professor in the Departments of Family Medicine and Population and Public Health Sciences, and medical students Marie Walters and Jessica Sokol. Walters is an M.D./Ph.D. student from Centerville. Sokol, from San Antonio, is pursuing an M.D./M.P.H. dual degree through the Physician Leadership Development Program.
"Findings from this survey will help inform and improve the work of health care providers and service organizations with LGBTQ patients and clients," Walters said. "The data also will guide ongoing work for the Public Health LGBTQ Health Alliance, a coalition of about 60 organizations and community partners."
Both medical students are leaders in Boonshoft PRIDE, a student group that promotes awareness and supports a network of allies for LGBTQ people at the Boonshoft School of Medicine. The group is just one of many local organizations working over the past few years to get the survey going. Partners include Public Health – Dayton & Montgomery County, Rainbow Elder Care of Greater Dayton, Parents, Friends and Families of Lesbians and Gays (PFLAG), the Greater Dayton LGBT Center, Gatlyn Dame Transgender Support Group, Buckeye Region Anti-Violence Organization and Positives for Positives Support Group, among others.
"This is a true collaborative effort by, with and for LGBTQ people in the Miami Valley," said John Cummings, a board member for Rainbow Elder Care of Greater Dayton.
It is the first large-scale effort with a rigorous, academic approach to gather data on the population living in Montgomery County and others nearby.
"We want to help make the quality of life for LGBTQ people in the Miami Valley as healthy and productive as possible," said Jerry Mallicoat, LGBTQ Health Initiatives project manager at Public Health – Dayton & Montgomery County. "The survey is a good first step to accomplishing that."
The LGBTQ Aging with Pride Survey is available online at https://is.gd/LGBTandAGING.